What is AviClear?
AviClear is a laser device used to treat mild to severe acne. It is the first and only FDA-cleared treatment of its kind to address acne with a unique laser treatment that targets individual acne spots on the face. AviClear can be used on any skin color for any level of severity of acne breakouts.
---
How does AviClear Work?
AviClear uses a safe laser to target and suppress the sebaceous glands in the skin. Sebaceous glands produce sebum, an oily, waxy substance. When too much sebum is produced, the pores become clogged and acne develops.
AviClear laser treatments cause the sebaceous glands to produce less sebum. This effectively improves the skin while minimizing further breakouts. AviClear acne treatment is performed with AviCool™ contact cooling to ensure the experience is comfortable and the skin is never damaged. Patients will feel a light snapping sensation on their skin but typically experience minimal discomfort.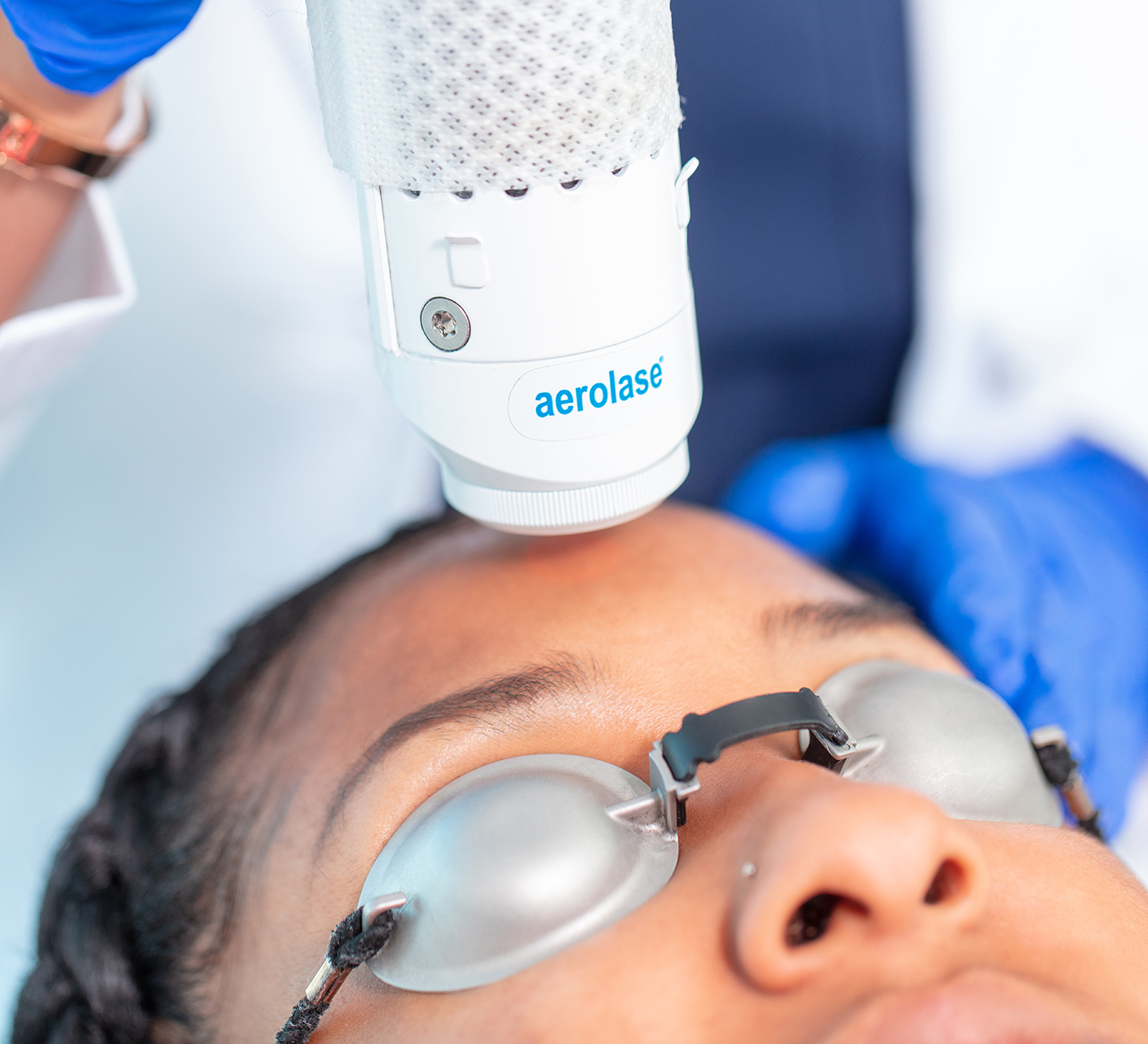 Results with AviClear acne treatments
You will receive a customized number of treatments, each lasting 30 minutes, that are performed over a period of months. You will notice your skin is clearer and healthier. One of the most outstanding results is that your skin will have fewer and less severe acne breakouts. Breakouts are significantly shorter and milder. Results will continue over time, with better, healthier skin for the long term.
---
What are the benefits of AviClear?
AviClear treatments achieve many benefits for patients who want to improve their skin without taking medication or using chemicals. The AviClear acne laser achieves the following benefits for patients:
Clearer, healthier skin
Fewer, less severe acne breakouts
Long-lasting results
Minimal discomfort
Safe, effective, and FDA-approved for all skin types
No harsh drugs or chemicals
Short procedure time (30 minutes(
No downtime
---
Recovery after AviClear
Patients can return to their day after an AviClear treatment, as there is no downtime. Some patients may break out immediately after receiving AviClear treatment, but this will fade. Breakouts will continue to lessen in intensity as patients complete their series of treatments.
Your skin will become clearer and smoother over time, all without harsh chemicals or medications that have more serious side effects.
Who is a candidate for AviClear?
Patients who are looking for a safe, non-invasive treatment to effectively resolve acne are candidates for AviClear. Because AviClear's laser is safe for people with darker skin tones, nearly everyone is a candidate for this treatment.
Patients of any age who suffer from any degree of acne can safely have AviClear treatments. To find out more about whether AviClear is right for you, please schedule a consultation with us.
---
Why choose Comprehensive Laser for AviClear treatments?
At Comprehensive Laser, we believe everyone deserves beautiful, clear, and radiant skin. We provide excellent patient care and use state-of-the-art technology and techniques to achieve your aesthetic goals. Our practitioners are among the best in the region, dedicating themselves to your needs. Please call today to find out more about what AviClear can do for you!