What is Microneedling?
Vivace microneedling is a non-surgical, FDA approved skin rejuvenation procedure that uses radiofrequency (RF) to stimulate the body's natural healing processes, thus initiating the production of new collagen within the tissue.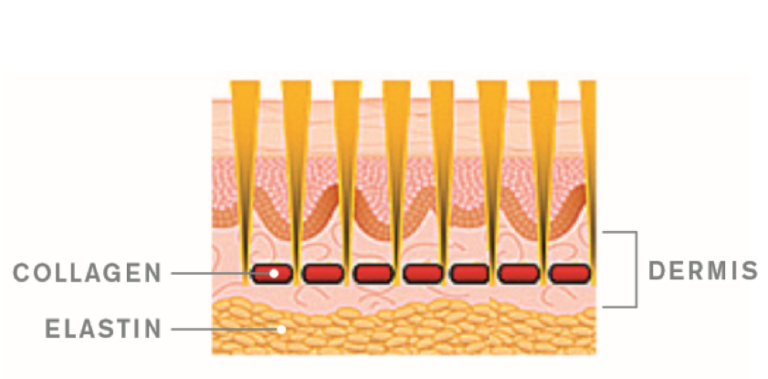 Why are more and more people requesting Vivace Microneedling for its incredible skin benefits?
The Vivace System uses 36 microneedles to penetrate through the superficial layer of skin, causing radiofrequency energy to transmit heat to the deeper tissue. The skin's reaction is to repair the tissue by forming new elastin and collagen fibers, which gradually give the skin a more youthful, rejuvenated appearance. Immediately following the treatment, the skin is able to easily absorb specialized serums that help improve the quality of the skin.
Vivace is ideal for patients who desire smoother, tighter, less elastic skin, along with a reduction in the appearance of wrinkles, acne scarring, pores, and stretch marks. Contact us today to learn more about this innovative skin treatment and schedule a consultation.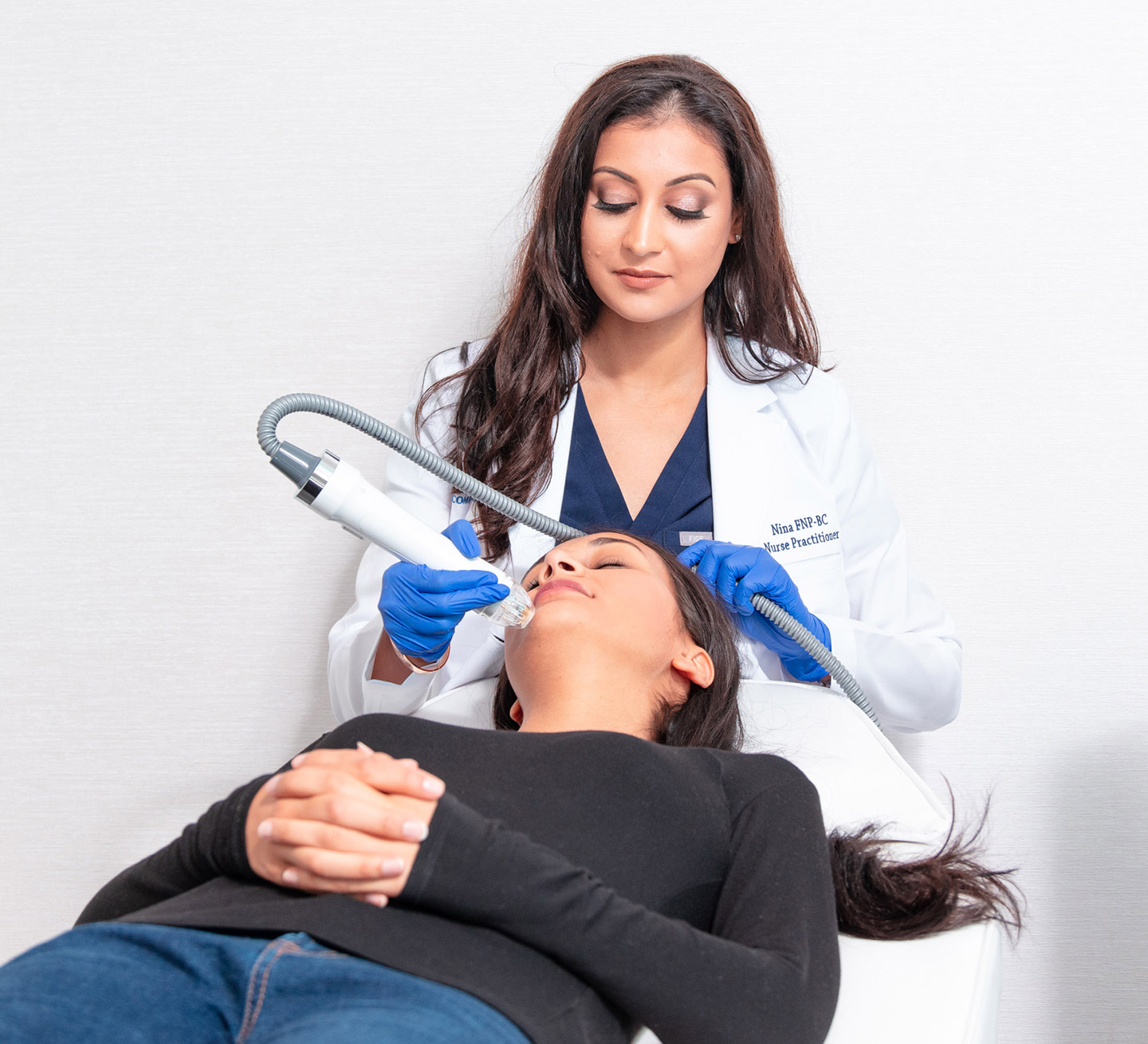 How are Vivace
treatments performed?
A Comprehensive, Personalized Approach
To experience the full Vivace treatment comfortably, a topical anesthetic will be applied to your face and neck to decrease any pain you may experience. After about 30 minutes the topical anesthetic is removed, and we begin your Vivace microneedling experience. Your skin will be cleansed and exfoliated with alcohol to remove any dead cells and debris from the surface. Next, we program the Vivace System to penetrate to specific depths in your skin to achieve the best results possible.
You may feel a slight pressure as the needles are being introduced under your skin. The entire process is painless and very comfortable. We will then create thousands of micropores and then deliver a serum filled with growth factors to help with recovery and to nourish your skin. A facemask is then applied for about 20 minutes to help with any redness or swelling you may have encountered during your treatment.
How does microneedling work?
Microneedling works by stimulating the regeneration of collagen, a protein found naturally in youthful skin. As we age, collagen supplies dwindle, causing hollow-looking contours that create an impression of fatigue. During a microneedling session in Baltimore, ultra-thin needles penetrate the pores to incite a wound-healing response, tightening and smoothing the skin. The end result is increased volume, a reduction in lines, wrinkles, and imperfections, and a radiant glow that is attractive and inviting.
There are three distinct phases to the microneedling collagen induction process:
Inflammation – During this stage, the skin is penetrated by the slender needles, triggering an immune response to address the micro-wounds. The body's wisdom tells it to clear out waste and debris, improve circulation, and regenerate tissue.
Proliferation – The body rebuilds the micro-wounds with granulation tissue, and new blood vessels are formed.
Remodeling – During this final stage, new collagen forms, and the skin tightens, rejuvenating the complexion from the inside out.
Microneedling creates micro-channels in the skin that are optimized to receive nourishing serums and nutrients. Medical-grade skincare products are more easily absorbed and penetrate the skin more effectively after microneedling. PRP can be added to your microneedling treatment in order to take advantage of its unique growth factors and regenerative abilities.
With microneedling, transformative skin renewal is finally within reach. The benefits of your new collagen growth gradually begin to appear at the surface of the complexion within a matter of weeks, boosting your confidence and brightening your countenance. Most clients require at least three microneedling sessions in order to see comprehensive results.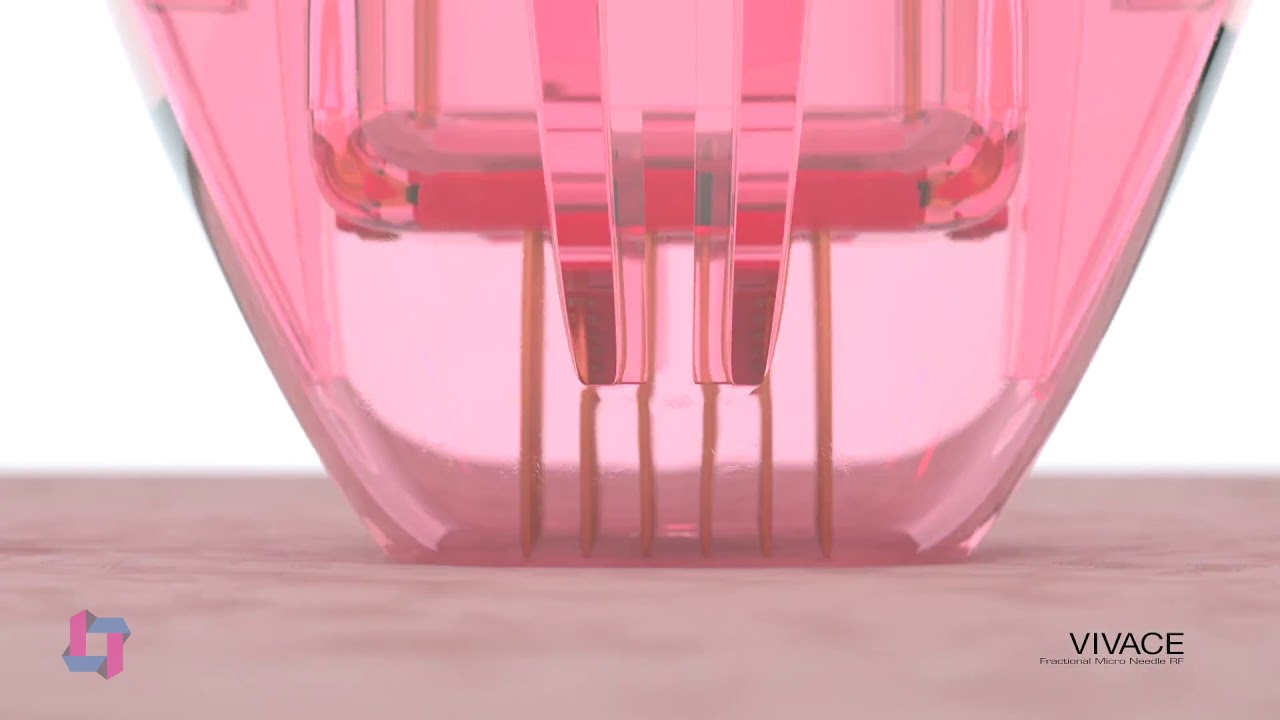 What is the
Vivace Experience?
The Vivace Experience is a 3-part procedure that consists of radio frequency microneedling, application of the Vivace serum and a facemask for recovery. The specially formulated serum contains nutrients and growth factors that help to stimulate collagen growth, hydrating the skin to give it a healthy glowing appearance.
What can be addressed with Vivace radio frequency microneedling?
Vivace treatments can improve both the visual and textural qualities of your skin. Whether you're looking to improve the tone and texture, decrease fine lines and wrinkles, or achieve age spot and sun spot removal, Vivace's got you covered!
With its blue and red-light LED technology, Vivace can treat active acne and acne scarring. Blue LED light has been used to decrease acne breakouts and red LED light increases collagen growth. Vivace can also treat stretch marks and surgical scars.
Acne Scars
With its blue and red-light LED technology, Vivace can treat active acne and acne scarring. Blue LED light has been used to decrease acne breakouts and red LED light increases collagen growth, for a softening, smoothing effect that causes old scars to smooth and become less visible. The treatment is comfortable to experience, with little downtime. Not only will your facial skin appear firmer, smoother, and more evenly-toned, but the treatment can ward off future breakouts for healthier, happier skin.
Surgical Scars
The Vivace system can produce a remarkable improvement in surgical scars. The power of light therapy in combination with microneedling will trigger natural skin regeneration, helping surgical scars appear less visible, feel smoother, and fade into the background. The combination of RF technology, LED light therapy, and microneedling makes Vivace treatments a superior choice for diminishing the appearance of surgical scars.
Stretch Marks
Stretch marks can finally be addressed with an effective treatment. With the LED technology working in concert with the regenerative effects of microneedling in Columbia MD, even stretch marks can become less visible, as damaged skin cells are shed, and fresh, young healthy cells take their place. Non-surgical and easy to experience, the restorative effects of Vivace can create a significant improvement in the appearance of stretch marks.
PRP
Platelet rich plasma, or PRP, is loaded with natural growth factors that trigger natural healing and regeneration deep within the skin layers. When applied in conjunction with Vivace microneedling in Baltimore, you can expect a noticeable improvement in skin quality, firmness, and health. The PRP sends a signal to the cells to heal, restore, and regenerate for faster, more beautiful results.
Microneedling Patient Testimonial
I didn't want to write my review until my sessions were completed. Before beginning laser, I researched many places in the area and finally chose Comprehensive Laser & Aesthetics based on their qualifications and experienced medical staff. They are not kidding when they say they have completed thousands of laser procedures. Their office is busy because they are so popular, but they always make sure my appointments are quick and that I am never waiting for more than a few minutes. I made sure to look up their credentials and areas of expertise before deciding to go with them. I am so glad I chose them because they really know what they are doing and are honest about the whole process. They never forced me to buy things I didn't need and really have my best interest at heart. I am so glad I went with Comprehensive Laser & Aesthetics!
- Lauren in Fairfax, VA
Who is a good candidate
for microneedling?
Vivace is an excellent solution for anyone who is seeking to reduce the signs of aging and environmental damage without discomfort or long downtimes. When combined with Platelet rich plasma (PRP) it is even more effective in treating acne scars and textural skin abnormalities. Your provider at Comprehensive Laser & Aesthetics will examine your skin during your confidential appointment and let you know if Vivace microneedling in Baltimore is indeed a good fit for your needs.
What will my recovery be like?

Immediately following your Vivace treatment your skin may appear flushed. This will pass shortly, but you should be sure to protect your skin from the sun's rays and avoid exercise and makeup for at least the first day. You can schedule an additional Vivace treatment 4-6 weeks after your initial session.

How much does Vivace Radiofrequency Microneedling cost?

When you visit Comprehensive Laser & Aesthetics for your confidential consultation, our team will provide you with a personalized quote based on your aesthetic goals.

Why should I choose Comprehensive Laser & Aesthetics for my microneedling treatment?

At Comprehensive Laser & Aesthetics, all our providers are members of the American Society for Laser Medicine and Surgery. Among them are experienced licensed Physicians, Physician Assistants, Nurse Practitioners and RN's. We use the most innovative, cutting edge equipment and technology on the market and can treat every skin tone without exception. We serve clients of all ages and backgrounds and welcome all members of the LGBTQIA community.