What is Aerolase Neo?
The Aerolase Neo is a safe and effective medical laser that gently addresses signs of aging. Neo's energy targets the skin to treat the problem area, leaving you with clear, healthy, hydrated skin. The innovative technology of the 650-microsecond pulse reduces any discomfort during your treatment. Aerolase Neo offers excellent results for even the darkest skin tones.
NeoClear for acne is a powerful option if you struggle to maintain healthy skin.
The NeoClear laser technology delivers gentle yet powerful energy to destroy acne bacteria and reduce inflammation. NeoClear controls current breakouts by inhibiting sebum and oil production to ward off future breakouts. The added benefit is the technology's ability to stimulate the generation of fresh natural collagen, which will help smooth the appearance of any acne scars.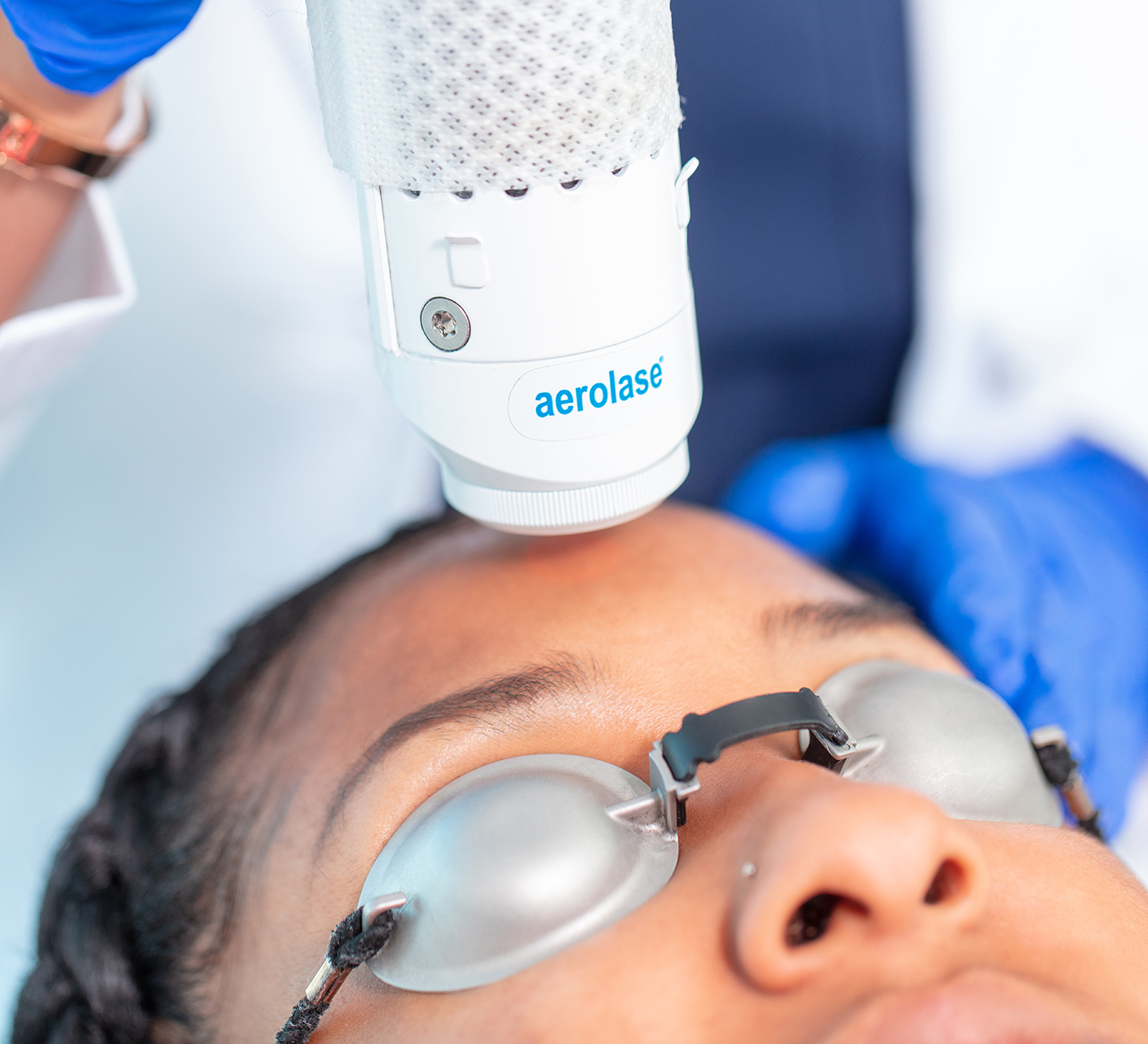 NeoSkin takes rejuvenation and skin tightening to a higher level.
As skin ages, you might experience more overall laxity as well as enlarged pores. Other conditions that start to appear include redness, sun damage, and age spots. NeoSkin is an aesthetic medical laser developed to address these common skin flaws. The laser technology targets water in your dermis layer to stimulate collagen production. NeoSkin can reduce fine lines, minimize pores, and tighten skin, leaving you with a fresh, youthful glow. You can keep your skin looking younger for years longer than nature dictates with NeoSkin treatments.
Can NeoSkin help with my melasma and hyperpigmentation?
Managing melasma and hyperpigmentation is not easy. Many of the topical agents require a long-term commitment to get results. NeoSkin can address these conditions and achieve clearer skin in fewer treatments. The Neo's 650-microsecond laser energy targets the dermis and epidermis layers of your skin to break up pigment and melanin deposits. The Neo can be a single treatment, or for accelerated improvements, combined with a peel to speed up the cellular turnover of the epidermis.
Why choose Comprehensive Laser & Aesthetics for my laser treatment?

Our team of professionals at Comprehensive Laser & Aesthetics works to ensure you achieve the results you deserve. We take care to treat you as an individual and will create a customized skin care program to deliver a smooth and glowing appearance to enhance your quality of life – and confidence. Before undergoing any laser treatment, we will meet with you to answer any of your questions and discuss treatment options. Our team of skin care professionals at Comprehensive Laser & Aesthetics is proud to have gained a reputation as being the best laser treatment center in Columbia, MD.
What are the benefits of Aerolase?
Aerolase addresses a variety of concerns and offers many benefits, including:
Improves skin laxity
Addresses uneven skin tone or texture
Reduces the bacteria that causes acne breakouts
Minimizes sun damage, age spots, freckles, and other skin imperfections
Minimally invasive
No downtime
Quick treatment, usually 30 minutes or less