A Comprehensive, Personalized Approach
How can you get the best skin of your life a Hydrafacial MD?
The Hydrafacial MD is a combination treatment that merges the advantages of hydradermabrasion, chemical peels, pore extractions and skincare serums containing antioxidants, hyaluronic acid and peptides into one incredible procedure with no downtime or discomfort. The patented Hydrafacial technology works to unclog pores, reduce oily skin, improve your youthful glow, and peel away layers of dead skin cells.
The five steps of the Hydrafacial MD are:
A Comprehensive, Personalized Approach
Exfoliation: with a medical-grade instrument, your skin is purged of dead skin cells, surface debris, dirt, makeup and other impurities.
Extraction: a specially-formulated serum is used that hydrates the skin while clearing away unwanted imperfections. Salicylic acid, honey extract and spirea ulmaria flower extract all work together to smooth, refresh and exfoliate the skin.
Oxygen infusion: A painless glycolic acid peel is used to gently scrub the pores and cleanse the skin without causing any damage or irritation.
Fusion: A special antioxidant serum nourishes the skin, infusing it with a proprietary blend of nutrients and extracts.
Protection: You are provided with a daily moisturizer and cleanser that can help extend your results and keep your skin healthy and vital for many months to come.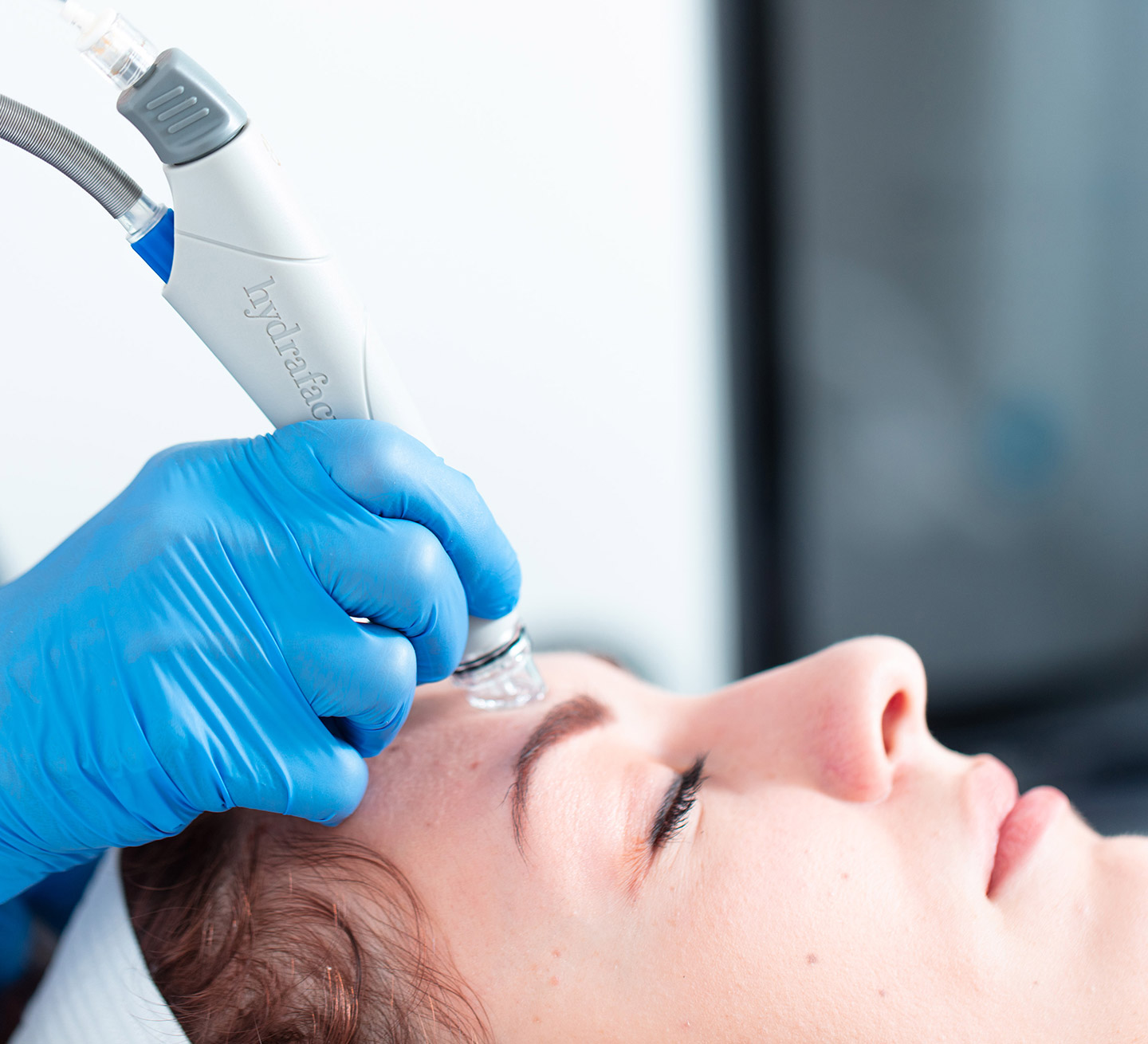 "I had always wanted to do laser treatments but wanted to make sure I found the best place in all capacities. This place was fantastic from the facility to the staff. I highly recommend them."
- Monica L.
What are the incredible
benefits of a Hydrafacial MD?
Non-invasive, non-surgical and safe for all skin types
No discomfort or downtime
No anesthesia
Helps correct facial impurities
Rids of skin of environmental toxins
Helps reverse age-related flaws
Short treatment time of less than 30 minutes
Helps boost self-confidence
Who makes a good candidate for a Hydrafacial MD?

Virtually anyone who desires healthier, more radiant skin is a good candidate for a Hydrafacial in Baltimore, because the treatment is naturally gentle and is well tolerated by even those with sensitive skin. Each treatment can be customized to your individual needs and goals.

What can I expect from my recovery?

There is no downtime with the Hydrafacial, so you can return to your normal routine instantaneously. You can use makeup right away as well as other skincare products. It is suggested that you use a good quality sunblock to help maintain your wonderful results.

What fees are connected with a Hydrafacial MD?

Based on your specific skin concerns, pricing can vary. Please see our pricing page for more information. We will make sure you leave your consultation with an in-depth quote that is personalized to your skincare needs.

Why select Comprehensive Laser & Aesthetics in Columbia, MD for my treatment?

Comprehensive Laser & Aesthetics is your primary destination in the Columbia area for state-of-the-art skincare solutions that rejuvenate, refresh and revitalize. The Hydrafacial MD is just one of our many cutting-edge procedures, delivered by a team of consummate skincare professionals and aestheticians. At Comprehensive Laser & Aesthetics, you will find it easy to schedule an appointment regardless of how busy your life is. We make it convenient with evening appointments and built-in childcare.