What Is Jeuveau?
Jeuveau is an injectable cosmetic treatment used to smooth certain types of facial lines. The FDA-approved product is primarily used to treat glabellar lines, which are the little vertical lines that develop between your eyebrows.
---
How Does Jeuveau Work?
Jeuveau uses the active ingredient botulinum toxin type A, which is the same active ingredient used in Botox. When Jeuveau is injected into the skin, the neurotoxin stops the nerves from communicating with the muscles in your face. As a result, the muscles stop contracting and relax, which allows the skin to become smoother and softer.
Although Jeuveau and Botox have the same active ingredient, the two treatments are not exactly the same. For one, the products are made with slightly different formulas. Additionally, Botox can be used for both medical and cosmetic reasons, whereas Jeuveau is currently only FDA-approved for the latter.
Benefits of Jeuveau
Jeuveau offers patients all of the following benefits:
Reduced glabellar lines (frown lines)
Smoother, more youthful facial skin
Improved self-confidence
Quick, simple treatment
Fast results
What Should I Expect During the Procedure?
If you're interested in Jeuveau treatment, the first step will be a consultation with one of our injection experts. They will ask you about your goals for the treatment and examine the area of your face that you're looking to address. They'll also ask you about your medical history, allergies, and medications.
The treatment itself will take place right in the office. First, your specialist will apply a topical anesthetic to the area being treated. Then, using a very fine needle, they will inject the Jeuveau into several places around your glabellar lines. All in all, this procedure should only take between 15 and 30 minutes. You will then be able to leave the office immediately and continue with your normal activities.
---
How Long Is the Recovery Time?
There's no recovery downtime after receiving Jeuveau treatment. You'll need to avoid rubbing the injection sites for a couple of days, but you can return to work and resume your regular daily activities right away.
---
Am I a Candidate for Jeuveau?

Adults who would like to have their frown lines removed with a simple, FDA-approved treatment may be good candidates for Jeuveau. Ideal candidates for the treatment should meet the following requirements:

Have moderate to severe glabellar lines that you'd like reduced or removed
Be in generally good health
Have no allergies to any botulinum toxin products
Have no ongoing skin infections near the treatment area
Have no muscle or nerve conditions
Not be pregnant or nursing
Have realistic expectations for the procedure

Are There Any Side Effects?

Jeuveau has been known to cause several side effects, most of which are minor. Possible side effects may include:

Skin redness
Bruising
Soreness
Headaches
Droopy eyelids
Upper respiratory infections

In very rare cases, the neurotoxin in Jeuveau can spread to other areas of the body, resulting in botulism.
How Long Will It Take To See Results After Jeuveau?
You may start to notice the results of Jeuveau immediately after your treatment. Typically, the full results become visible within a week, and they should last for approximately three to four months. After that, a follow-up treatment will be needed to maintain the effects.
Why Choose Comprehensive Laser & Aesthetics?
At Comprehensive Laser & Aesthetics, we utilize innovative technology and state-of-the-art equipment for all of our cosmetic procedures. Our expert team will ensure that you enjoy a pleasant, stress-free experience and the best possible results from your Jeuveau treatment. We offer convenient, flexible appointment scheduling and always go the extra mile to accommodate our patients.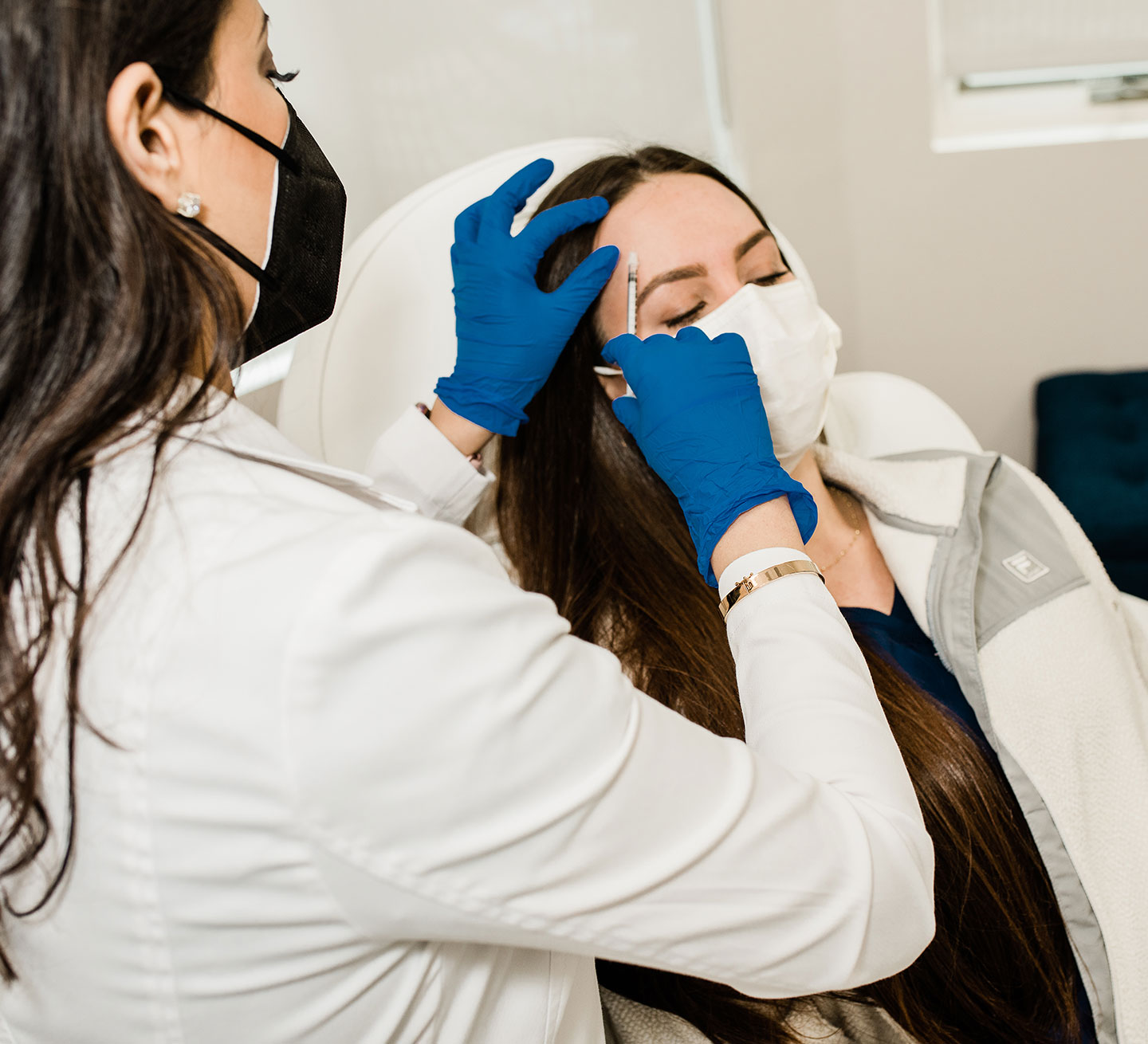 FAQ
Is Jeuveau painful?
You may feel a bit of pressure or a small pinch during the injections, but there shouldn't be any significant pain during the treatment.
Is Jeuveau more effective than Botox?
Jeuveau and Botox are both very effective for reducing facial lines. Depending on the specific areas of the face that are being treated, one treatment may be a better choice than the other.
Is Jeuveau safe?
Yes. Jeuveau is an FDA-approved treatment, and the majority of its side effects are minor. Because its active ingredient is a neurotoxin, it does pose certain risks, but serious complications occur only in a very small percentage of patients.
Can I administer Jeuveau myself?
No. To ensure your own safety and achieve the results you want, you should only have Jeuveau administered by a certified professional.