What is NeoClear acne therapy?
NeoClear is an acne treatment solution by Aerolase. Using 650 Microsecond Technology, NeoClear offers a practical approach to acne therapy that addresses even the most problematic conditions. The versatile laser treatment system safely treats any skin type and is appropriate for patients of any age.
---
How does it work?
The unique laser technology of NeoClear delivers gentle, yet powerful energy directly to the targeted area of the skin. The laser destroys acne bacteria and reduces inflammation. By controlling a case of active acne, NeoClear by Aerolase can inhibit sebum and oil output, minimizing the chance of any future breakouts. The added benefit is the technology's ability to stimulate the generation of new collagen, which will help diminish the appearance of any scarring resulting from the acne breakout.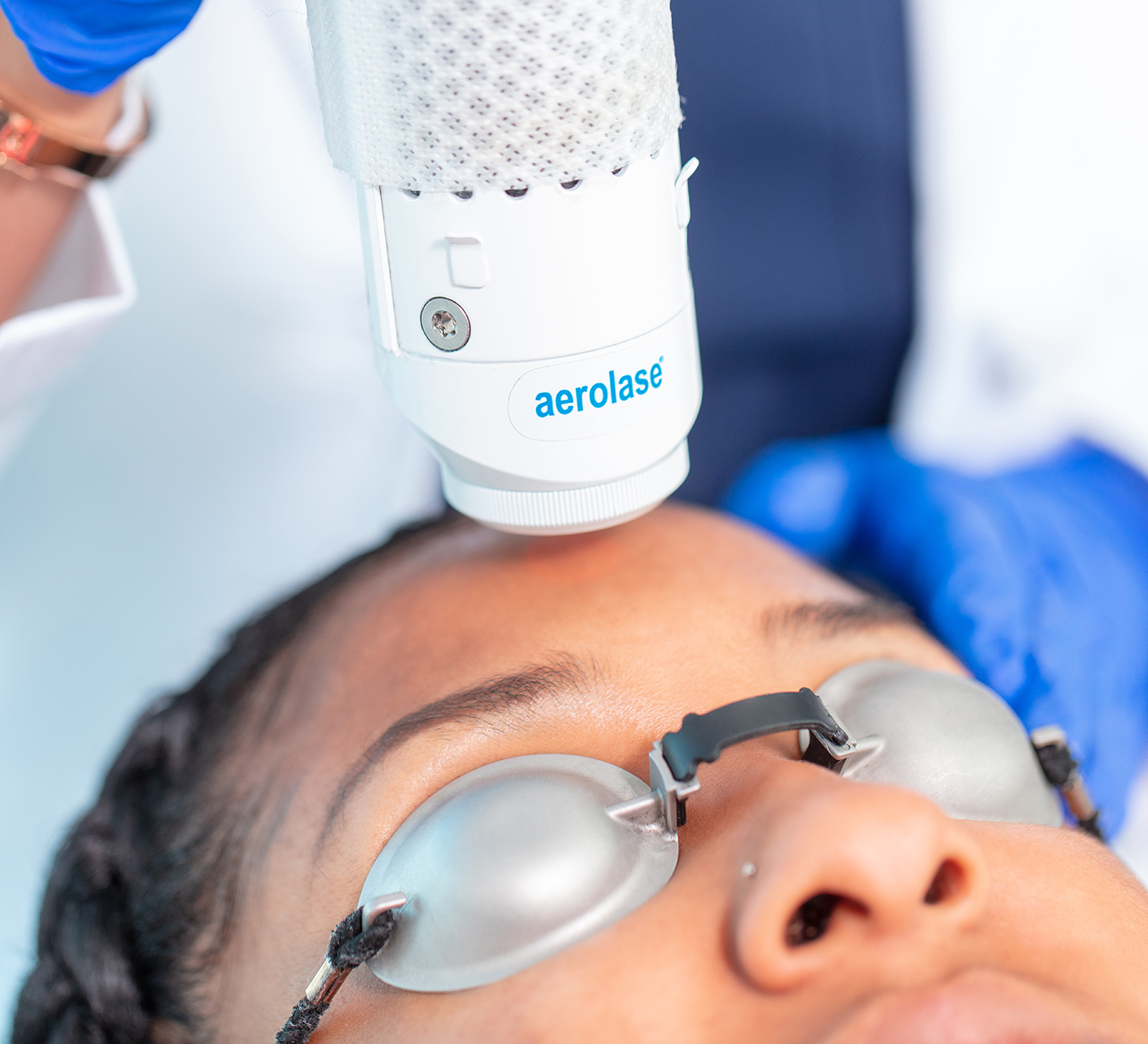 What are the benefits of NeoClear acne therapy?
Effective and safe for all skin types
Men and women of all ages can benefit
The NeoClear laser offers a more gentle approach over traditional lasers
Improved skin quality
Procedures completed in 30 minutes or less
No long-term redness or downtime required
---
Is NeoClear by Aerolase the better solution for my acne?
Each patient has had different experiences with their acne and different paths to try to resolve acne breakouts. Many of the patients who walk through our doors have undergone various acne therapies with little to no long-term success. Some have noticed that their bodies have become immune to the prescribed antibiotics used to treat acne. Others have tried expensive over-the-counter creams and soaps to find out their skin didn't react well to the treatment. Because of the innovative technology and the versatility of the laser, the chance of success with NeoClear acne therapy is very high.
---
Am I a good candidate for NeoClear acne therapy?
When considering acne laser treatment, you should make sure that you are in good health to achieve the best possible results. Most patients have already tried several acne solutions such as medications, creams, and other traditional therapies, and may believe they have exhausted all of their options. NeoClear acne therapy is an effective solution for almost anyone of any age. Men and women both can benefit from the advanced technology of NeoClear by Aerolase.
Why choose Comprehensive Laser & Aesthetics for my acne therapy?
Comprehensive Laser & Aesthetics has a reputation of being one of the best medical aesthetic laser treatment centers in Columbia, MD. Technical skills play a role in the outcome of any procedure, and our medical team delivers some of the world's safest and most effective treatments. All of the providers at Comprehensive Laser & Aesthetics are committed to your overall wellbeing and will take care to ensure your skin looks its best.
---
When will I see the results of my acne therapy?
Some patients will notice a reduction in their acne almost immediately after treatment. Others might require additional therapy sessions to control a current breakout.
---
How long will the results last?
NeoClear acne therapy can produce long-lasting results. For some patients, this can mean clear skin for years. Factors including hormones, skin type, and even the products you use on your face can play a role in how long your treatment lasts. We are here to help you manage your skin, so it stays healthy, firm, and blemish-free, for the long term.