Why is laser acne scar removal
among the most frequently booked

appointments at Comprehensive Laser & Aesthetics?

You can achieve your once youthful appearance with clear, smooth skin with laser acne scar removal. Our Baltimore Vivace RF microneedling and PicoWay Laser acne scar removal are excellent treatments to reduce the appearance of acne scars and create refreshed, beautiful, rejuvenated skin.
---
What are the different
types of acne scars?
We offer a personalized solution
Scarring can be caused by a loss of tissue, or by the development of an excess of tissue. Raised, discolored, and depressed are the three main types of acne scars. Depressed, also known as pitted acne scarring, is the most common and is generally a result of inflammatory acne. Acne scars are difficult to treat, and the right option for you will depend on the extent and depth of your facial scarring. You may even have more than one type of scarring. To smooth your facial skin, and improve the look of acne scars, schedule a consultation to determine your best treatment option.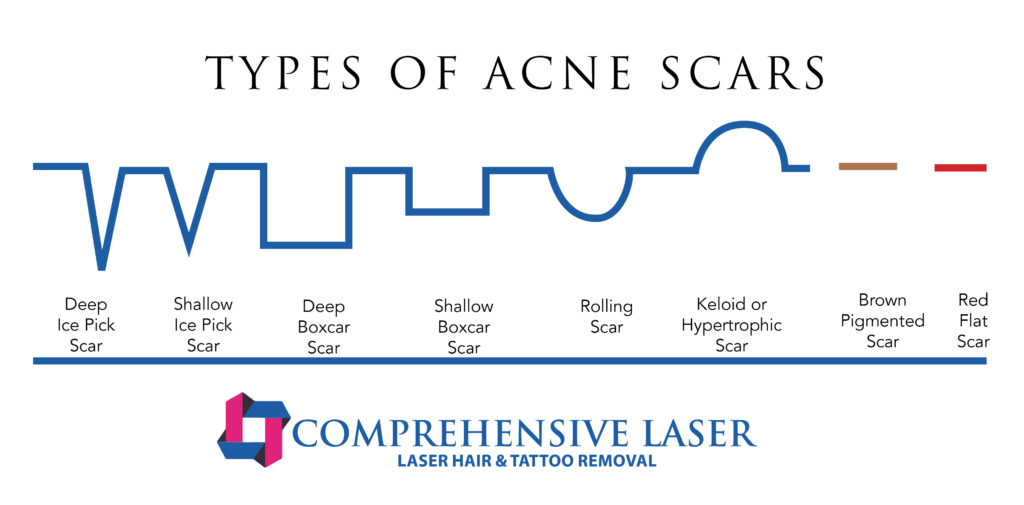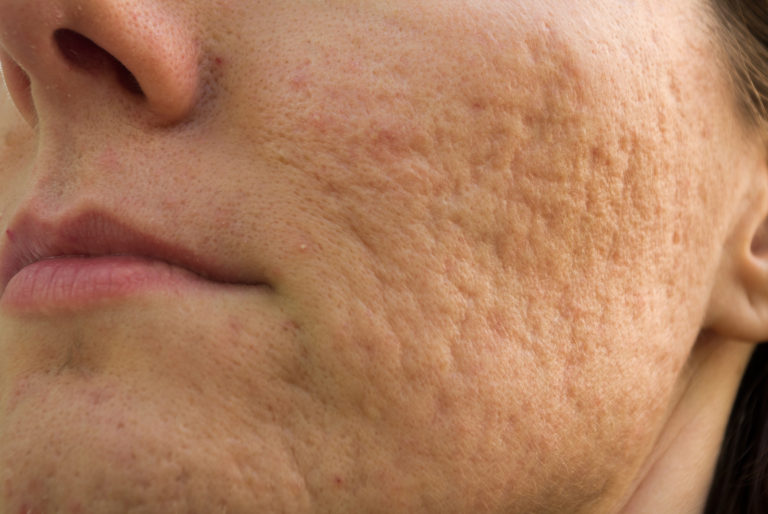 Rolling Acne Scar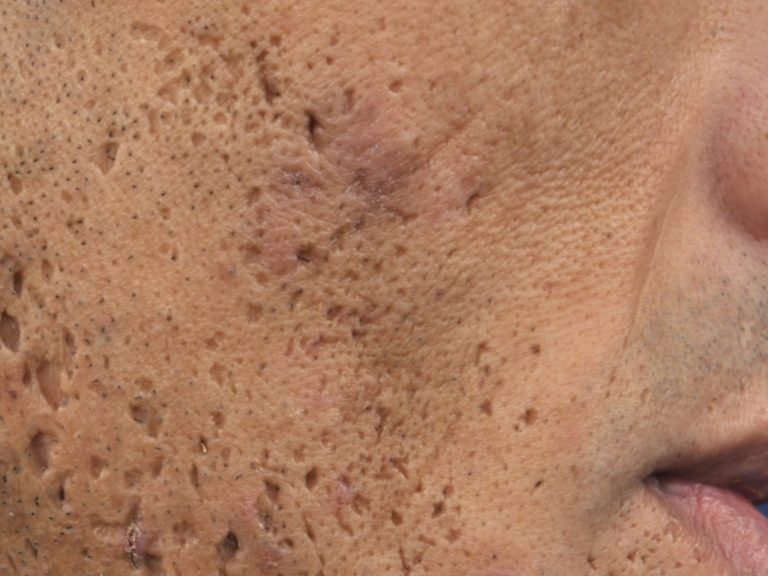 Ice Pick Acne Scar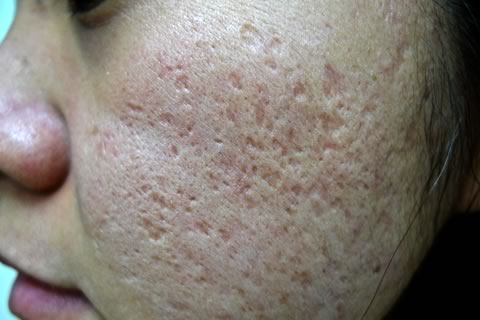 Box Car Acne Scar
How does acne scar removal work?
Comprehensive Laser & Aesthetics offers three effective methods of laser acne scar removal, each with their own unique patient benefits:
The Vivace RF Microneedling is an acne treatment that combines the benefits of microneedling with radiofrequency energy. The microneedling creates tiny injuries in the skin to stimulate the production of collagen. The radiofrequency energy helps aid in the healing process, while also fueling collagen production and tightening the skin to produce a smooth and refreshed appearance.
What are the benefits of acne scar removal with Vivace?
Minimally-invasive
Reduces active acne
Smoothes skin texture
Minimizes the size of pores
Reduces inflammation
Diminishes the appearance of acne scars
PicoWay Laser is an acne scar treatment utilizing pulsed laser at the speed of one-trillionth of a second. This is the shortest laser removal available on the market, requiring little to no downtime or recovery. Patients can return to their normal routines and even apply makeup on the same day of treatment. PicoWay laser reaches below the epidermis to produce a photoacoustic effect. What that means is instead of the laser converting into heat (which potentially damages the surface layers of skin through which it travels), that laser energy converts into sound waves. These ultra-rapid bursts of sound open up tiny pockets within the skin to allow for and stimulate the growth of new collagen and elastin, that restores and rejuvenates youthful skin. As many acne scars actually result from the loss of collagen in the skin, PicoWay effectively reduces their appearance and restores a more beautiful complexion.
What are the benefits of acne scar removal with Picoway laser?
Minimally-invasive
Little to no downtime; same day recovery
Stimulates the natural production of collagen and elastin
FDA cleared for the treatment of acne scars
94 percent highly satisfied acne scar removal rates in patient clinical studies
Rapidly reduces the size and appearance of acne scars
The Exceed microneedling device by Candela is the first to offer dual-indicated microneedling that is FDA approved for the treatment of acne scar reduction. With adjustable settings, this treatment is highly customizable and can be adapted to a number of different skin types, so you can enjoy relief from the presence of acne scars no matter what. A quick and comfortable procedure, coupled with an impressively short recovery period, make this one of our patients' favorite skincare treatments when it comes to the elimination of mild to moderate signs of facial aging.
What are the benefits of acne scar removal with Exceed microneedling by Candela?
Minimally invasive "lunch break" procedure that won't take time out of your daily routine
FDA approved to effectively treat acne scars and uneven texture
Comfortable procedure with little to no downtime
Can be used to enhance the outcome of other procedures
The Candela Nordlys IPL System can treat acne and help with skin resurfacing to clear active acne. This device helps to reduce the production of sebum and as a result will reduce areas of acne. Nordlys IPL uses short bursts directed at the affected areas of the skin to reach the blood vessels that are supplying blood flow to the sebaceous gland. This IPL treatment helps to address red blemishes, irregular pigmentation and uneven skin tone.
The staff and doctors were nothing short of amazing and very attentive. I would and will definitely recommend the practice and will be back if I ever need anymore "work" done!
- Lisa in Woodbridge, VA
Am I a candidate for laser acne scar removal treatment?
If you are struggling with acne scars and are looking for a treatment that has little to no recovery time, Vivace and PicoWay are likely the perfect treatment for you. These acne scar removal treatments are minimally-invasive and can address almost any area of the face or body. Before beginning any laser-based treatment, you will need to be evaluated by one of our medical experts at Comprehensive Laser & Aesthetics. Most patients easily clear this medical evaluation.
What will recovery be like with my acne scar removal treatment?
Recovery from acne scar removal with Vivace RF Microneedling or Picoway are both short and smooth.
Vivace RF Microneedling is a safe and effective treatment for acne scar removal. The side effects are minimal but can include redness, swelling, and some irritation around the treatment area. The symptoms are similar to experiencing a mild sunburn. The redness fades quickly, and you can return to your everyday activities as soon as you feel comfortable.
PicoWay Laser is FDA-cleared for acne scar treatment. Treatments are as rapid as 15 to 20 minutes and are followed by very little no recovery time at all, as the epidermis is left untouched. Side effects of PicoWay are very brief and may include redness or swelling and a tingling sensation in the area treated. These diminish rapidly and patients routinely return immediately to their social and professional activities within minutes to an hour following treatment.
Why choose Comprehensive Laser & Aesthetics for my acne scar removal treatment?
The medical team at Comprehensive Laser & Aesthetics is committed to your overall wellbeing and will take care to ensure that your skin looks its best. Before undergoing any laser treatment, you will meet with us to discuss your goals and individual treatment plan. Our patients choose Comprehensive Laser & Aesthetics due to our reputation of being one of the best acne treatment centers in Columbia, MD. We are committed to ensuring you have the best care, so your skin is radiant and glowing.
Is acne scar removal painful?
Most patients find the treatment to be quite comfortable. You may feel a snapping sensation similar to a rubber band snapping against your skin as the wand crosses the treatment area. If you are concerned with any pain you might experience, let us know so we can apply a numbing cream before treatment.
Acne scar removal treatments done with the PicoWay laser system produce either very mild discomfort or no discomfort at all.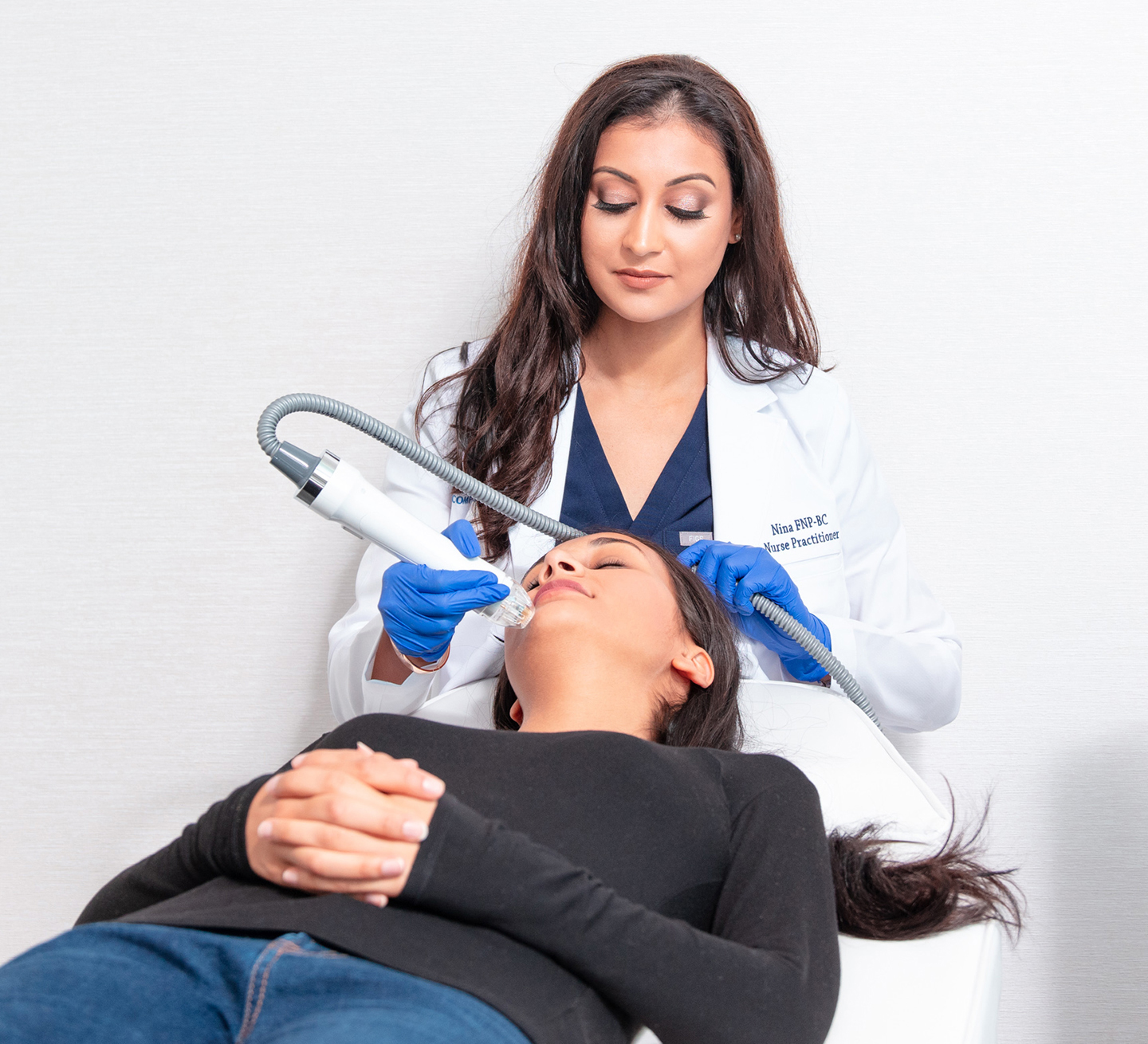 How many sessions will I need?
Your acne treatment must be customized specifically for your case. The recommended number of treatments can be discussed in a private consultation.