Candela GentleMax Pro
The GentleMax Pro system utilizes two different wavelengths of lasers that make it a versatile solution for many different skin types. The 755 nm Alexandrite laser and 1064 nm Nd:YAG laser work together to treat a variety of skin tones and conditions. The lasers are extraordinarily efficient so your treatments can be completed in under an hour. Candela has been providing some of the industry's highest quality lasers for over 20 years, making the GentleMax Pro system one of the most consistent and adaptable lasers available today.
What can I treat with the Candela GentleMax Pro?
Although the GentleMax Pro system is typically used for laser hair removal, it can also be used to treat:
Visible veins on your legs, face, or other areas
Skin discoloration including sun spots, port wine stains, or redness
Sagging skin typically found near the face and neck
There is very little downtime associated with the GentleMax Pro system, allowing you to go back to work or other activities after your treatment is complete.
---
DEKA Motus AX Laser Hair Removal System
Laser hair removal has been never been easier with the Motus AX system. This high-speed Alexandrite laser uses a unique wavelength that targets even fine hairs that can be found on the upper lip, arms, or other areas of the body. A specialized tip on the end of the laser device alleviates some of the energy loss that occurs with other systems, allowing Motus AX to be more efficient and effective than some other older laser hair removal systems.
What is unique about DEKA Motus AX laser hair removal?
Historically, darker skin tones could not benefit from laser hair removal. Certain devices relied on a high contrast between the skin color and hair color, leading to skin discoloration on those with medium to dark skin. However, the advanced laser used in the Motus AX device allows for laser hair removal on all skin types and tones with very little risk of complications.
---
Vivace Radiofrequency Microneedling System
The Vivace combines the benefits of microneedling with the warming effects of radiofrequency to revitalize the skin by improving the look of fine lines, tightening the skin, and providing a youthful glow. The device is guided by a robotic motor that provides elevated precision to deliver an ideal, even treatment with minimal discomfort. We also use an industry-leading numbing cream to ensure your comfort during the procedure.
What are the benefits of microneedling?
Microneedling has changed the way we look at rejuvenating the skin. By stimulating the body's natural production of collagen and elastin, your skin will look revitalized without a "worked-on" look. Other benefits include:
Minimally-invasive
No visible scarring due to the tiny needles
Safe and effective
Very low risk of complications
All-natural, no harsh chemicals or medications
Microneedling can also be repeated to maintain results. It can be used virtually anywhere on the body, and any person who wants to rejuvenate skin on face or body is a candidate.
---
Palomar StarLux 500 IPL
IPL, also known as Intense Pulsed Light, is a form of laser that implements broadband light to revitalize the skin. The light waves penetrate into the deeper layers of skin to deliver long-lasting results. The Palomar StarLux 500 IPL aims to treat the underlying cause of imperfections instead of simply treating the superficial layers. Sometimes called a photofacial, IPL treatments are minimally invasive and carry very little risk due to their lack of serums, lotions, or chemicals that could cause adverse side effects.
What can IPL treatments be used for?
IPL treatments are typically used to treat discoloration of the skin. Skin imperfections can be present from birth while others develop over time, including sun spots, acne scars, freckles, visible blood vessels, rosacea, and birthmarks. The StarLux 500 can also be used for hair removal in cases where hair is thicker or darker, but may not be ideal for those with light or fine hair.
---
Quanta Q-Plus C
The Quanta Q-Plus C is a revolutionary laser device often used for tattoo removal. This unique laser employs a square beam so the treatment can be executed evenly and effectively across the skin. The circular beams associated with older devices required overlapping treatment to cover the entire area, leading to uneven distribution of the laser energy. The Quanta Q-Plus C device also carries three different wavelengths that target different colors of pigment to make one of the most comprehensive tattoo removal devices available today.
Who is a good candidate for Quanta Q-Plus C?
The Quanta Q-Plus C device utilizes three different wavelengths of light, including:
1064 nm for black or dark blue inks
694 nm for other shades of blue, black, purple, and green
532 nm for purple, red, orange, or yellow
The variety of wavelengths means virtually anyone who has an unwanted tattoo can benefit from this innovative device. In addition to tattoo removal, the laser can also be used for skin discoloration, reducing varicose veins, and hair removal.
---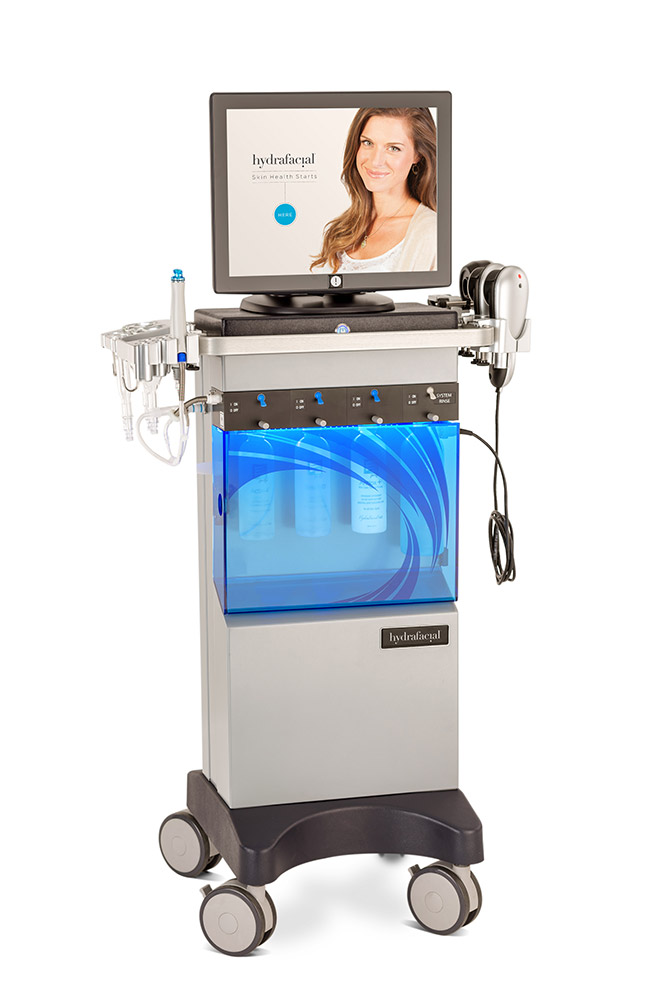 HydraFacials
The advanced HydraFacial system uses a handheld device to revitalize the skin in three steps. First your skin will be gently exfoliated, then the suction will extract debris from your pores, and then your skin will be hydrated with a customizable blend of antioxidants and serums. You can experience a dramatic improvement in the look and feel of your skin after just one treatment.
What is unique about the HydraFacial system?
The gentle HydraFacial device delivers a remarkable improvement in skin quality and appearance without chemicals or harsh methods of exfoliation. The system strikes a perfect balance between effective revitalization and very little recovery time. It can also be personalized to each patient based on your skin type and any concerns you have, and is gentle enough to be repeated on a regular basis.
---
Advanced Laser Treatments
with Comprehensive Laser
Our array of laser devices and treatments can be used to treat a wide variety of skin conditions, imperfections, and even remove that unwanted tattoo. We use industry-leading technology to provide you with safe and effective treatment, and our thorough consultation process will help us identify the perfect treatment for your skin.