Laser Hair Removal: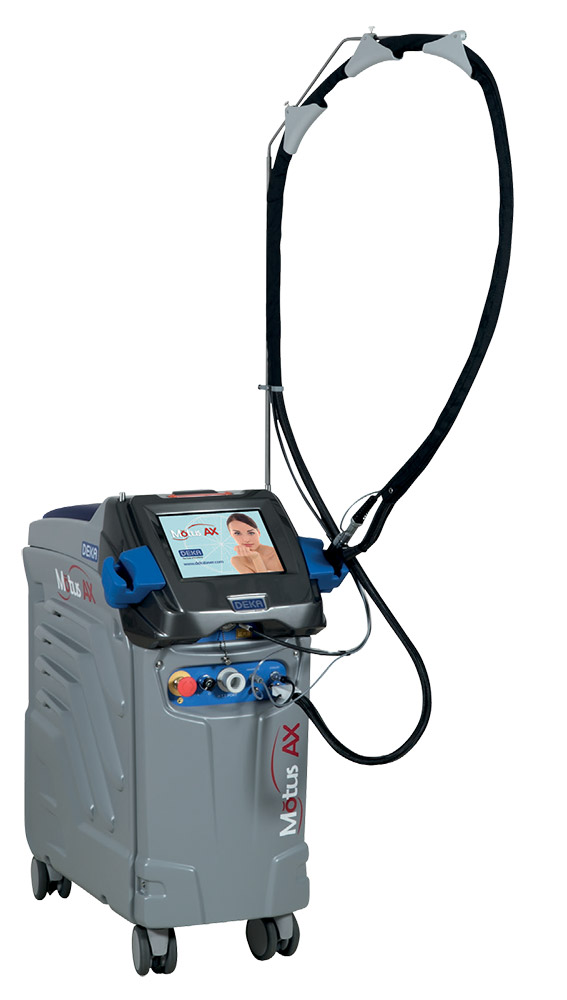 DEKA Motus AX Laser Hair Removal System
Laser hair removal has been never been easier with the Motus AX system. This high-speed Alexandrite laser uses a unique wavelength that targets even fine hairs that can be found on the upper lip, arms, or other areas of the body. A specialized tip on the end of the laser device alleviates some of the energy loss that occurs with other systems, allowing Motus AX to be more efficient and effective than some other older laser hair removal systems.

Motus AX & AY
The Motus AX & AY are cutting-edge technologies used for effective laser hair removal for all skin types. The devices are manufactured by Europe's leading laser manufacturer—DEKA. They've produced the world's first high-speed Alexandrite lasers capable of working on both light and dark skin tones with equal effectiveness.
The Motus AX & AY devices use the groundbreaking Moveo technology to gradually heat and destroy targeted hair follicles without damaging the surrounding skin tissues. Unlike other laser systems, the Moveo hand pieces are designed to ensure 100% energy absorption, increasing the total energy available for laser hair removal. As such, the Motus AX & AY devices are far more effective and faster than other laser hair removal systems.
Benefits of Motus AX & AY
Destroys targeted hair follicles without harming the surrounding skin
The cool sapphire tip ensures a comfortable experience for the patient
The Moveo handpiece ensures 100% energy absorption
The gradual heating minimizes the "rubber-band" sensation and discomfort traditionally associated with laser hair removal
Suitable for light AND dark skin types
---
Laser Tattoo Removal: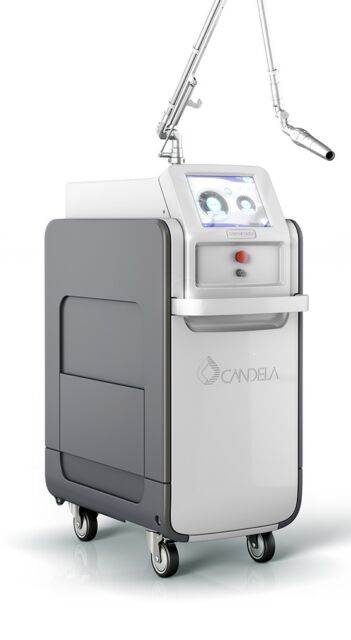 Candela Picoway Laser
The PicoWay system produces the shortest pulsed laser currently available marketwide, to reach beneath the skin and remove tattoos, dark spots, wrinkles or acne scars. Comprehensive Laser & Aesthetics is the ONLY practice in Maryland that has this highly effective laser tattoo removal device. As its ultra-short laser pulses produce a photoacoustic effect—where sound waves follow laser light absorption to shatter tattoo ink and leave the outer layer of skin intact—the PicoWay requires zero patient downtime and leaves no scar. PicoWay is FDA cleared for the removal of acne scars, wrinkles, dark skin spots and tattoos.
You will begin to see immediate reduction in tattoo density, and possible full resolution of dark spots and acne scarring following the first treatment, with full resolution possible over the course of several treatments. While most laser tattoo removal systems depend on a photothermal (heating) effect and may thus negatively impact the surface layer of the skin, PicoWay instead produces a photoacoustic effect where sound waves do all of the work without heating or causing any damage to the epidermis.
Who is a good candidate for PicoWay laser?
Anyone seeking to restore refreshed and beautifully rejuvenated skin by quickly removing tattoos, dark skin spots or acne scars with little to no downtime is typically a candidate for PicoWay.
---
Skin & Laser Treatments: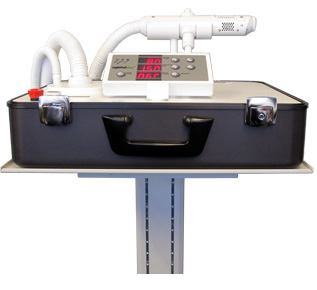 Aerolase Neo
Aerolase Neo is the gold standard of versatile laser treatment systems. The 1064 nm wavelength of the laser allows the light energy to penetrate the skin to treat deeper tissue layers as well as surface-level conditions. This wavelength targets hemoglobin, water, and melanin to resolve an array of skin concerns. The Aerolase Neo unique, defining feature is the 650 Microsecond Technology, which offers the power and efficacy of other high-powered lasers with minimal discomfort or the potential for damage.
What can be treated with Aerolase?
The versatility of the laser makes it an excellent treatment system for skin rejuvenation and to resolve a wide range of conditions, including:
Acne
Scars (including acne scarring)
Melasma
Spider veins
Rosacea
Redness
Psoriasis
Warts
Pigmented lesions
Nail fungus
As the laser pulse length is so short – millionths of a second in duration – you will experience little to no discomfort or downtime with the treatment. Experience a remarkable level of skin rejuvenation with Aerolase at Comprehensive Laser & Aesthetics.
WHAT IS NEOCLEAR BY AEROLASE ACNE THERAPY?
NeoClear is a proven solution for all ages and skin types who suffer from acne. This acne therapy is a safe, effective and powerful treatment that eliminates the major factors to reduce the appearance of acne scars and leave skin looking radiant.
WHAT IS NEOSKIN BY AEROLASE?
NeoSkin by Aerolase can be used as a treatment for rejuvenation and tightening, and as a treatment for comprehensively clearing melasma and hyperpigmentation. The rejuvenation and tightening comprehensive treatment addresses tone and texture, redness, pigmentation, laxity, and other unwanted skin conditions. For melasma and hyperpigmentation conditions, NeoSkin by Aerolase helps to achieve comprehensive clearance of the factors contributing to melasma and hyperpigmentation.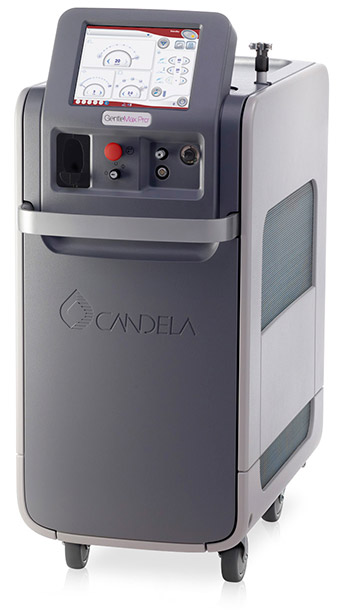 Candela GentleMax Pro
The GentleMax Pro system utilizes two different wavelengths of lasers that make it a versatile solution for many different skin types. The 755 nm Alexandrite laser and 1064 nm Nd:YAG laser work together to treat a variety of skin tones and conditions. The lasers are extraordinarily efficient so your treatments can be completed in under an hour. Candela has been providing some of the industry's highest quality lasers for over 20 years, making the GentleMax Pro system one of the most consistent and adaptable lasers available today.
What can I treat with the Candela GentleMax Pro?
Although the GentleMax Pro system is typically used for laser hair removal, it can also be used to treat:
Visible veins on your legs, face, or other areas
Skin discoloration including sun spots, port wine stains, or redness
Sagging skin typically found near the face and neck
There is very little downtime associated with the GentleMax Pro system, allowing you to go back to work or other activities after your treatment is complete.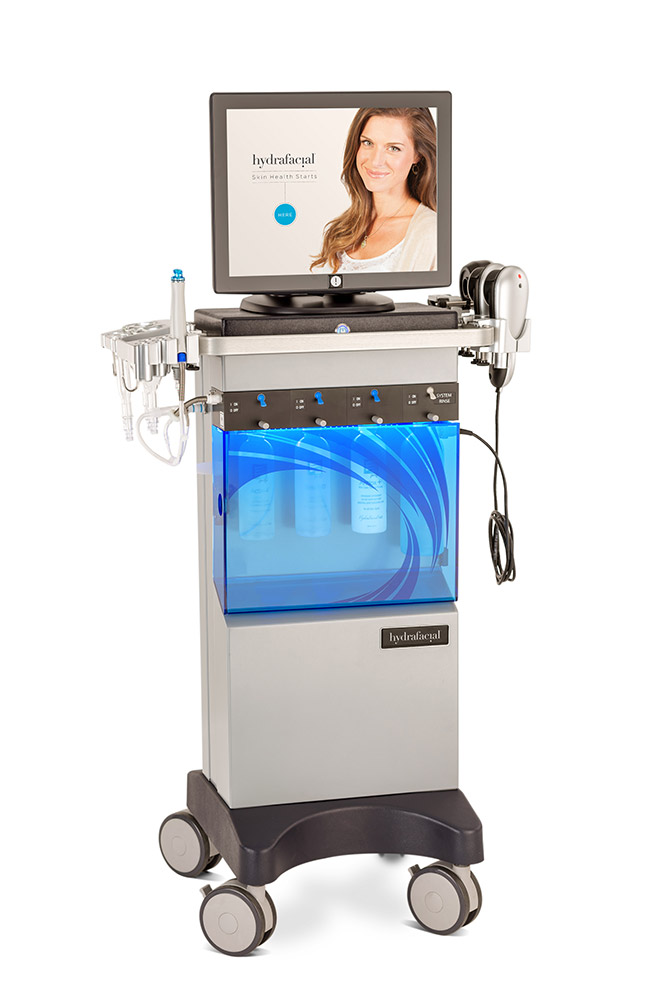 HydraFacial MD
The advanced HydraFacial system uses a handheld device to revitalize the skin in three steps. First your skin will be gently exfoliated, then the suction will extract debris from your pores, and then your skin will be hydrated with a customizable blend of antioxidants and serums. You can experience a dramatic improvement in the look and feel of your skin after just one treatment.
What is unique about the HydraFacial system?
The gentle HydraFacial device delivers a remarkable improvement in skin quality and appearance without chemicals or harsh methods of exfoliation. The system strikes a perfect balance between effective revitalization and very little recovery time. It can also be personalized to each patient based on your skin type and any concerns you have, and is gentle enough to be repeated on a regular basis.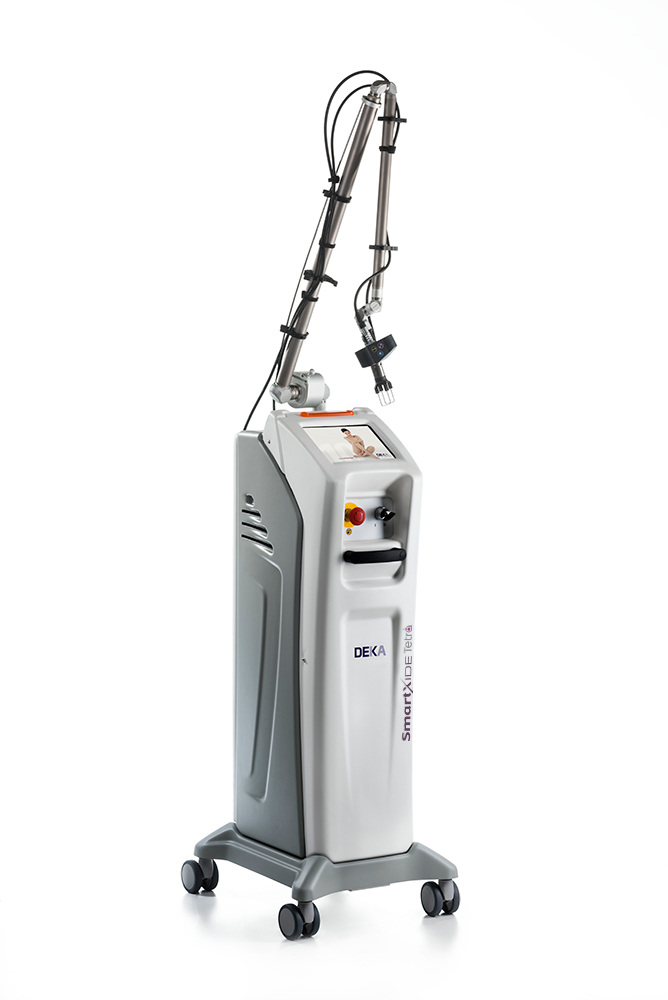 DEKA Tetra CO2
The Tetra CO2 laser is the latest advancement in laser skin resurfacing. What makes the Tetra CO2 laser unique is that the treatment can be completely customized to a patient's exact needs. Your provider can choose the pulse speed, power, and density of the treatment. This allows your provider to tailor the laser treatment to you, which isn't possible using other one-size-fits-all machines. For patients who are older, or dealing with common signs of aging, the Tetra CO2 can be used on fine lines and wrinkles. For younger patients or those who may be struggling with skin texture, the Tetra CO2 can also help.
CoolPeel with Tetra CO2
One of the best features of the laser is the ability to perform CoolPeel, a new type of CO2 resurfacing treatment. This treatment is able to deliver fractional ablative treatment without the downtime or redness of traditional CO2 treatments. The CoolPeel can be used to treat sun damage, fine lines, and skin texture.
Ideal Candidates for DEKA Tetra CO2
One of the hallmarks of this new laser treatment is that just about everyone is an ideal candidate. The machine can be adjusted to fit your needs and address your specific concerns. Some of the most common issues treated by the Tetra CO2 include:
Fine lines and wrinkles
Brown spots
Scars
Hyperpigmentation
Sunspots
---
Microneedling: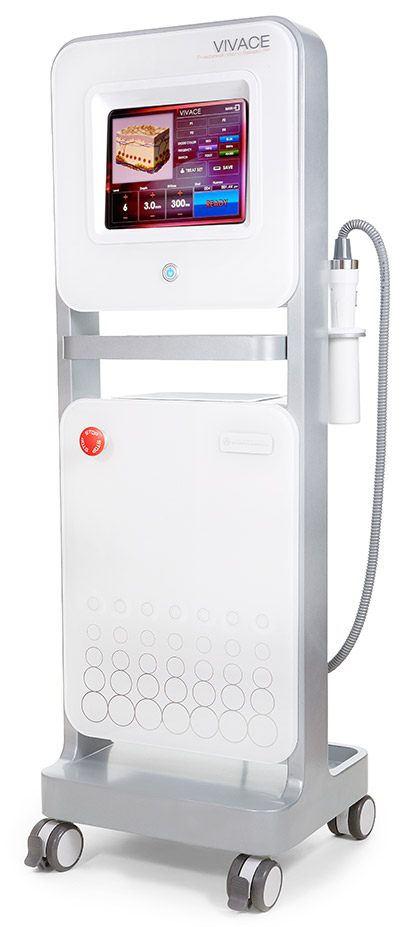 Vivace Radiofrequency Microneedling System
The Vivace combines the benefits of microneedling with the warming effects of radiofrequency to revitalize the skin by improving the look of fine lines, tightening the skin, and providing a youthful glow. The device is guided by a robotic motor that provides elevated precision to deliver an ideal, even treatment with minimal discomfort. We also use an industry-leading numbing cream to ensure your comfort during the procedure.
What are the benefits of microneedling?
Microneedling has changed the way we look at rejuvenating the skin. By stimulating the body's natural production of collagen and elastin, your skin will look revitalized without a "worked-on" look. Other benefits include:
Minimally-invasive
No visible scarring due to the tiny needles
Safe and effective
Very low risk of complications
All-natural, no harsh chemicals or medications
Microneedling can also be repeated to maintain results. It can be used virtually anywhere on the body, and any person who wants to rejuvenate skin on face or body is a candidate.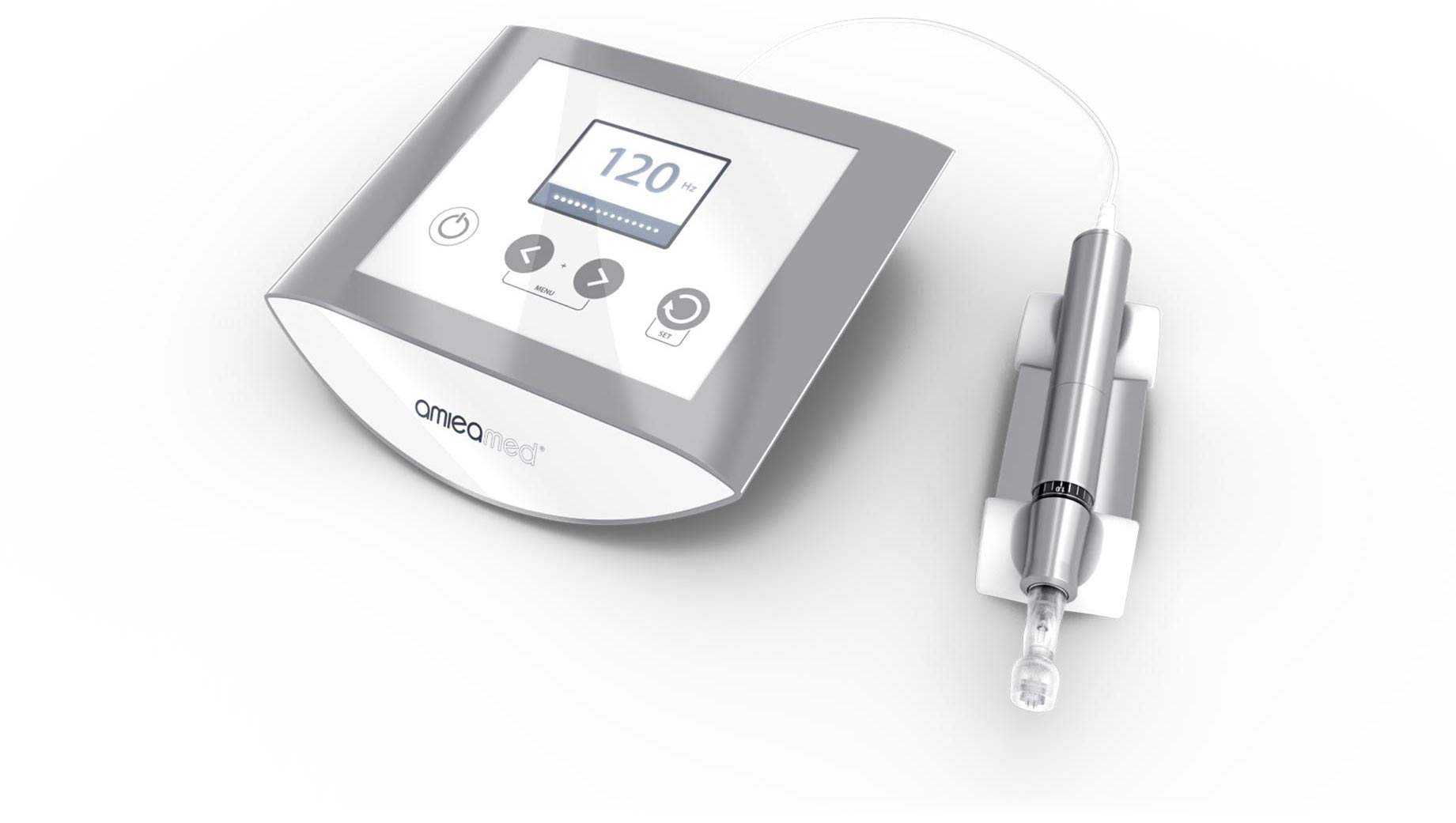 Candela Exceed Microneedling
This incredible new microneedling system makes use of the latest advancements in advanced skincare technology to eliminate the earlier signs of mild to moderate facial aging with a comfortable, non-surgical treatment. Skip the downtime and clear your skin without missing a beat from your busy schedule, thanks to the very first dual-indicated microneedling system that's FDA-cleared to leave you with fresher, more youthful skin.
What Can I Treat with Candela Exceed Microneedling?
This treatment gives you the power to non-surgically address a number of issues related to facial aging:
Fine lines, wrinkles, and shallow creases
Acne scarring and uneven texture
Hyperpigmentation or redness
Lost volume or sagging skin
With Candela Exceed Microneedling, you'll experience impressive results with very little downtime, so you can walk back the clock without taking time out of your daily routine.
---
Advanced Laser Treatments
with Comprehensive Laser & Aesthetics
Our array of laser devices and treatments can be used to treat a wide variety of skin conditions, imperfections, and even remove that unwanted tattoo. We use industry-leading technology to provide you with safe and effective treatment, and our thorough consultation process will help us identify the perfect treatment for your skin.