Why are people turning to laser tattoo
removal to reinvent their self-image?
A large percentage of people have tattoos, and many regret their decision and would like to have them removed. What may have been exciting and looked good when you were 18, may not be what you would have chosen 20 years later. As we move forward in years, our tastes and choices may begin to change. If you have a tattoo you would like to remove, there is good news for you. Laser tattoo removal in Baltimore can rid you of your undesired tattoo with virtually no downtime or side effects.
---
How does laser
tattoo removal work?
The Candela Picoway laser tattoo removal system can remove all tattoos with little to no scarring. A high-intensity light is beamed into your tattoo, breaking up the pigment colors. Black tattoo ink is the easiest to treat, as it absorbs all laser wavelengths. Other colors can be treated using selected lasers, based on the different pigment colors.
The number of procedures you need depends on the size of your tattoo, and the colors used. The color of your skin, along with the depth of the tattoo will affect the removal technique. The Candela Picoway laser is capable of treating all skin tones and ALL colors of ink.
Laser Tattoo Removal Treatment
What should I expect
from my treatment?
Laser tattoo removal in Columbia MD may be a little uncomfortable, but most patients do not need anesthesia. We offer a painless option for those patients who cannot tolerate the discomfort. Immediately following treatment, you may be instructed to use an ice pack to soothe the treated area. We recommend applying a post laser gel to cool and soothe the treatment area.
You need to keep in mind that laser treatments are safer than many other tattoo removal techniques such as excision or dermabrasion, and there are very few side effects. However, you need to follow your practitioner's instructions carefully to achieve the best results.
What are the most
important benefits of

laser tattoo removal?
No scarring
Safe, effective and efficient
NO downtime
Can remove tattoos of all colors
Can remove whole tattoos, or just parts of tattoos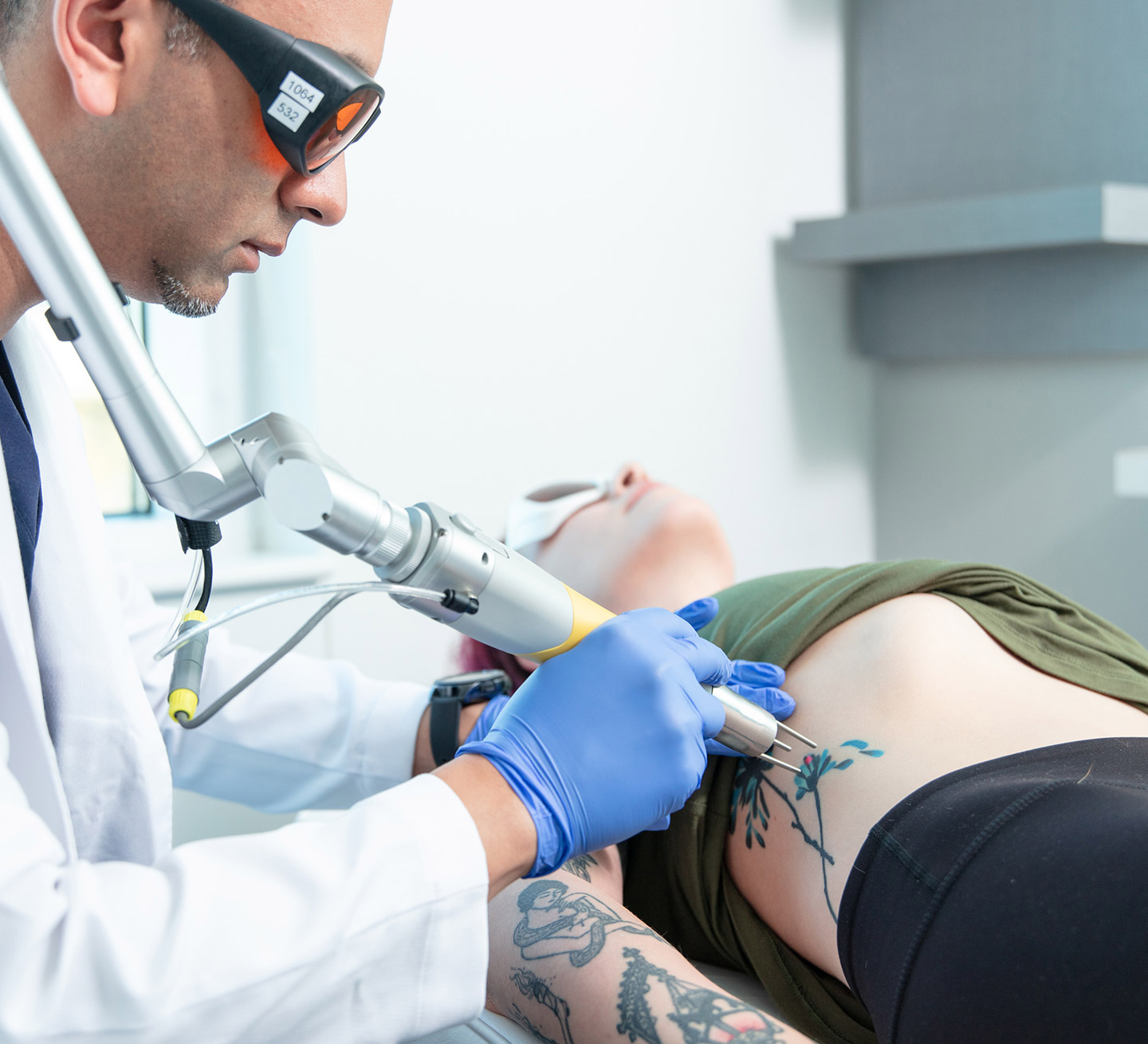 Tattoo Removal with
PicoWay
Tattoo removal is fast, safe and easy with the FDA-cleared PicoWay laser system. Using a photoacoustic effect—where pulsed picosecond laser energy (that's one-trillionth of a second) is transformed into sound rather than heat within the skin—the PicoWay painlessly shatters tattoo ink into fragments that are then easily flushed out of the body. The system reaches beneath the surface of the skin to target those layers of skin where the tattoo ink is embedded, and shatters it. PicoWay additionally stimulates the growth of new collagen and elastin which further assist to diminish the appearance of the tattoo.
As with all laser tattoo removal options, the PicoWay may require a series of quick treatments (15 to 20 minutes each). What makes it an excellent patient choice is that it requires little to no downtime after treatments and does not risk causing potential damage to the surface layers of the skin through overheating.
Who is a good candidate
for the procedure?
In general, good candidates for laser tattoo removal in Baltimore are of sound mind and body, with healthy, thriving immune systems. They should be non-smokers, as smoking may inhibit the body's ability to clear away the ink once it has been broken down by the lasers. Additionally, clients seeking laser tattoo removal should be well informed about what they can expect from their results. Our team will ensure you have realistic expectations during your confidential consultation.
I have only ever had stellar service here. I never have to wait a long time for treatments, the staff is professional, and the results have been amazing. I love knowing that I have medically trained professionals taking care of me. I will definitely be returning!
- April in Germantown, MD
What can I expect in terms of recovery and downtime?

As with many other laser treatments, there may be some mild swelling and redness after your sessions. Tingling, bruising, itching and slight skin discoloration are also all normal reactions to the laser heat. Rest assured, within about 2-3 days you will be completely healed.

How much does it cost?

Treatments start as low as $99 per session. Pricing depends on the size of your tattoo and Consultations are required to provide the most accurate pricing. Please visit our Contact page to set up your Consultation.

Why should I choose Comprehensive Laser & Aesthetics for tattoo removal?

Tattoo removal is an art and a science. Several factors such as ink density, skin type, and ink color need to be considered when attempting tattoo removal. Sadly, most practices do not have properly trained and certified staff who understand the intricacies of this process. We have the most laser tattoo removal devices that can treat any skin type and ink color.

At Comprehensive Laser & Aesthetics, our primary goal with tattoo removal is ensuring that it is performed safely and with zero scarring. Our physician assistant Neil Harry is the only Certified Laser Tattoo Removal Specialist in practice in Howard County. He is also our Laser Safety Officer and has completed his training in Denver, Colorado at the A Laser Academy with Victor Beyer – who many consider to the be Godfather of laser tattoo removal. We have the most powerful Picosecond laser, the most experience, and the most procedures performed in the county.

You already regret the tattoo. Don't make another mistake and have an unqualified provider cause you further pain and suffering. We are also the only practice in Howard County, Maryland that specializes in and performs Laser tattoo removal treatments.
How do I get started?
Contact the experts at Comprehensive Laser & Aesthetics to find out how you can remove your unwanted tattoos. We are located at 10700 Charter Drive, Suite 330 Columbia, MD 21044 .
All consultations are performed by a laser tattoo removal authority and cost $50. After your consultation you may choose to apply your consultation fee to a package of laser treatments.
Schedule your appointment online or call us at (410) 855-5821. We at Comprehensive Laser & Aesthetics proudly serve the Columbia, MD area, and the following cities: Baltimore, Ellicott City, Elkridge, Laurel, Clarksville, Fulton, Maple Lawn, Catonsville, Savage, Randallstown, Reisterstown, Halethorpe, Pikesville, Adelphi, Silver Spring, Hyattsville, Burtonsville, Brookeville, Olney, Ashton, Highland and Sykesville.

Physician Assistant
Neil Harry
PA-C, LTRS, LSO
Neil has worked alongside Dr. Matsunaga since 2012 and is skilled in pain-less laser tattoo removal. He also has an extensive background in Critical Care Medicine, General, Plastic and Orthopedic Surgery.
Neil was trained and Certified as a Laser Tattoo Removal Specialist by the Godfather of Laser Tattoo removal – Mr. Victor Beyer from A Laser Academy in Denver, Colorado. Neil is a member of the American Society for Laser Medicine and Surgery (ASLMS) and is our Laser Safety Officer. He is also honored to be a provider within the Soul Survivor Ink network that helps survivors of human trafficking to remove tattoos of a painful past.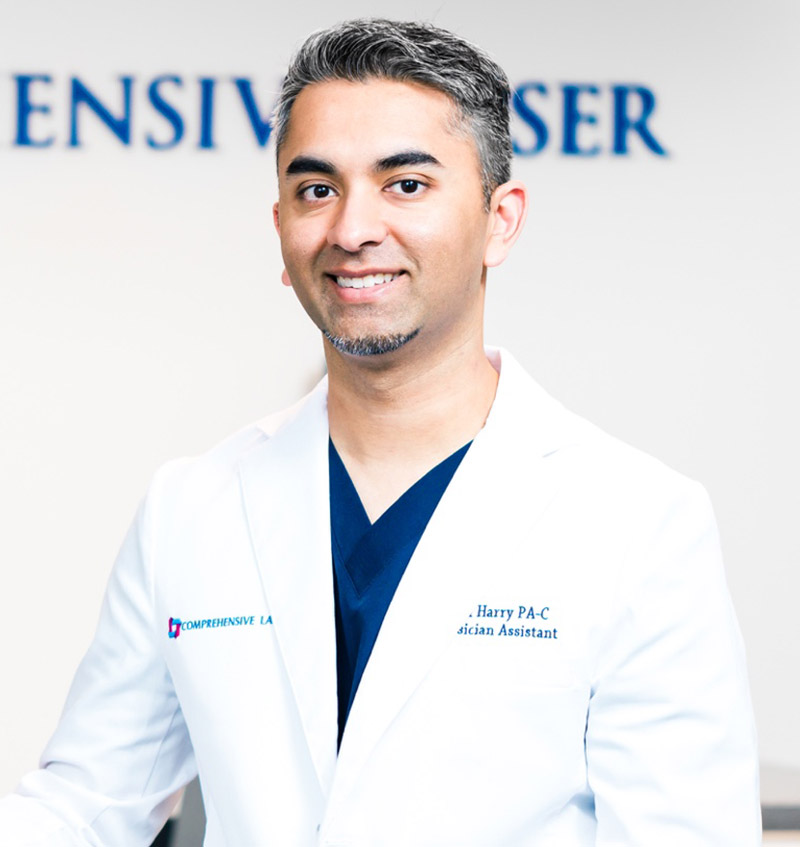 Laser Tattoo Removal
Pricing
All laser tattoo removal pricing is individualized and quotes are not provided over the phone. Please schedule your consultation to receive customized pricing.
LASER TATTOO REMOVAL PRICES START AS LOW AS $99
PACKAGE DISCOUNTS AVAILABLE
$50 Consultation fee will be deducted from a package of laser tattoo removal treatments