Skinwave is a revolutionary technology that combines an aqua-delivery system, skin rejuvenating solutions, and hydrogen therapy for a multi-faceted skin care procedure. Solutions formulated with Alpha Hydroxy Acid (AHA), Beta Hydroxy Acid (AHA), Hyaluronic Acid, and Hydrogen (H2) are administered deep into the skin while the gentle extraction process cleanses impurities.
What is Skinwave?
Skinwave is a state-of-the-art device that works by cleansing, exfoliating, and returning moisture to the skin, awakening its natural beauty while restoring youthfulness. This versatile procedure includes an aqua delivery system, Hydrogen therapy, electroporation, and a contouring roller, increasing its efficacy and soothing factors.
What are the benefits of the Skinwave facial treatment?
More vibrant skin
Tighter skin
Increased circulation of lymph in the body
Exfoliation for smoother skin
Improved hydration
A reduction in inflammation and active acne
Decreased redness
No downtime following the procedure
A good option for all skin types
Who is a candidate for Skinwave?
All patients seeking to improve the overall quality and health of their skin by cleansing, moisturizing, and exfoliating the skin to preserve or regain its youthfulness, can benefit from this procedure. Patients suffering from dry skin, acne, oily skin, and signs of aging can all benefit from this relaxing and potent facial treatment. It is worth noting that, beyond the face, this treatment can work wonders on the neck, chest, and back, as well.
What sets Skinwave apart?
Skinwave's unique combination of procedures puts it ahead of many other treatment options for the skin. In the first part of the process, three dedicated solutions are applied to the treatment area by way of an aqua delivery handpiece. While this is happening, a gentle extraction process cleanses the region of impurities. Skinwave is the only technology with Hydrogen therapy, which provides antioxidant benefits, replenishes the skin with moisture, and mitigates inflammation. Additionally, electroporation makes for optimal absorption while delivering red and/or blue LED therapy. Last but not least, the contouring roller triggers lymphatic circulation while soothing the skin's surface.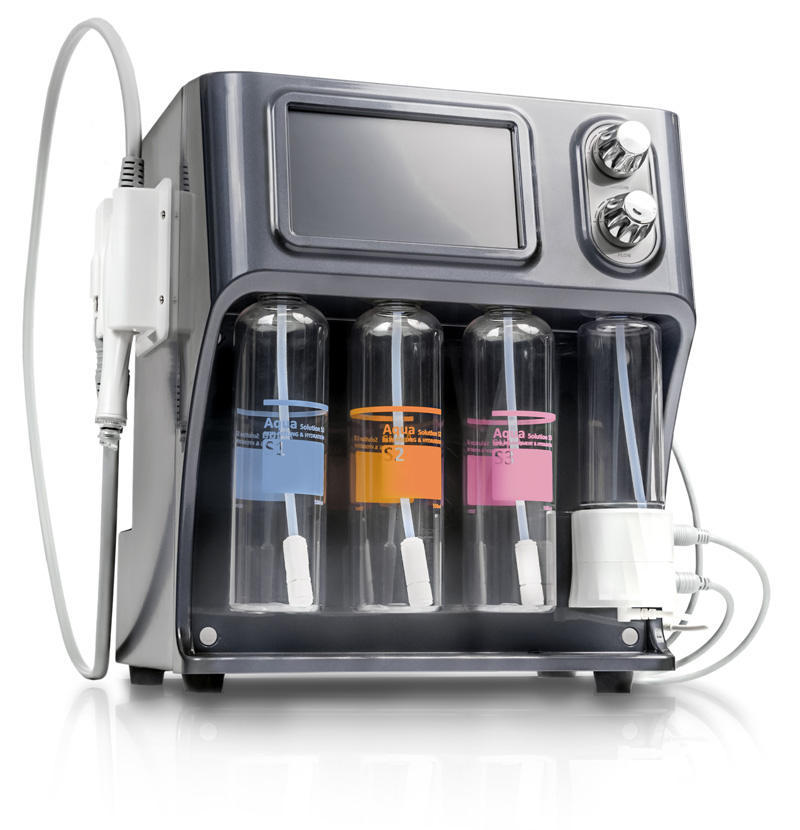 What is the procedure like?

An aqua delivery handpiece is employed to apply three powerful solutions: Alpha Hydroxy Acid (AHA) to purify and exfoliate the area, Beta Hydroxy Acid (BHA) to reduce oil secretion and acne, and a formula based on Hyaluronic Acid to bring moisture to the skin.

Throughout this process, a gentle process of extraction simultaneously rids the pores of dirt and other impurities. Hydrogen-enriched water reacts with active oxygen in the skin in order to reduce dryness and factors responsible for aging. Electroporation with red and blue LED opens up the pores of the face temporarily for increased absorption and a reduction in redness and acne. The contouring roller moves gently over the skin with its 360º rotation balls, stimulating circulation of the blood and lymph and improving skin elasticity.

On average, Skinwave treatments typically take 20 to 30 minutes to complete. Most patients see improvements within a few days without taking any additional measures.
What is the recovery period like?

There is no downtime with Skinwave. Patients can get back to their daily activities, including workout regimens.

Why choose us?

Comprehensive Laser & Aesthetics is a highly-regarded Medical aesthetic laser facility located in Columbia, MD. Our practice specializes in everything from laser hair removal to surgical scar removal. Our team is dedicated to our patients' satisfaction, and we ensure that they feel comfortable and cared for every step of the way.